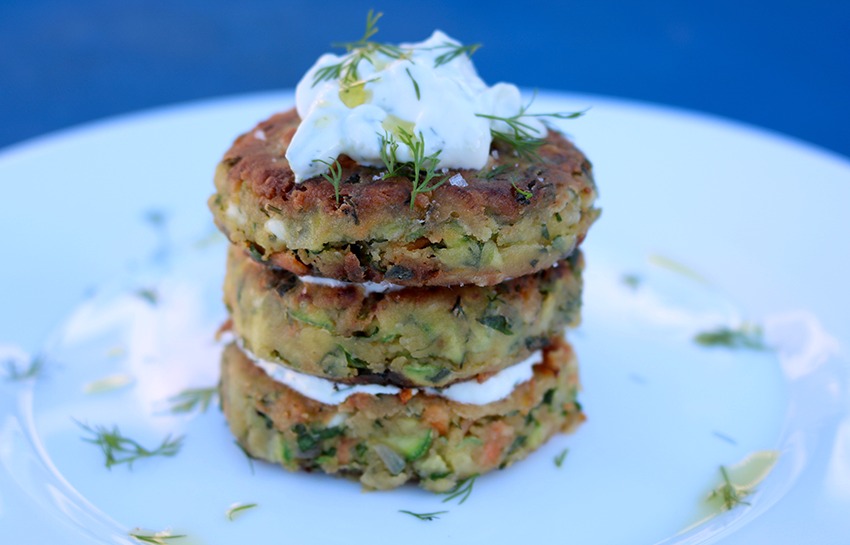 Zucchini Fritters
Who doesn't love simple cooking?
I sure do…
Don't you?
And I love it even more when…
Simple cooking leads to something outrageously delicious!
That's exactly what these Mediterranean Zucchini Fritters are…
Simple & Delicious!
There's gorgeous sweetness from the carrot & the sautéed onion…
Contrasted by the creaminess & saltiness from the Dodoni feta.
The zucchini gives the dish crunch & freshness…
But…
I must say that…
My favourite part of the fritter is the fluffy interior.
Its so light an airy and…
You only realise it's there after getting through the crispy shallow fried exterior.
Now we've gone for a short stack but…
You could just as easily serve these up as individual appetizers.
And although they are sensational straight off the heat with the feta creamy & gooey…
They work really well served cold and would be a great addition to any lunch box.
And being of the Mediterranean ilk, we of course thought you should…
"Get tzatziki with it!"
We've made tzatziki before but this week's has a twist…
It uses freshly grated zucchini in place of our usual choice of cucumber.
All that's left to say is..
Buon appetito!
Or as they say in Greek…
Kali Oreksi!
– – – – – – – – – –
Makes 16 Patties
Ingredients
For The Patties
2 zucchini grated & water squeezed out
1 large carrot grated
1 medium red onion finely diced
2 spring onion sprigs chopped
1 cup parsley chopped
½ cup dill chopped
1 egg
200g feta crumbled
1 cup breadcrumbs
1 cup flour
Olive Oil
Sea Salt
Cracked pepper
For The Tzatziki
1 cup Greek style yogurt
1 tbsp olive oil
2 garlic cloves chopped finely
1 small zucchini grated & water squeezed out
2 tbsp dill chopped
Juice of ½ lemon
Pinch of salt
Method
For The Tzatziki
Squeeze the In a bowl add all the ingredients & stir to combine well. Refrigerate until ready to use.
Top Tip: Tzatziki tastes better the longer it sits in the fridge for. Ideally make it the day before or at least a few hours before serving!
For The Patties
In a small fry pan, sauté the onion until translucent. Add the spring onion for about 1 minute, then add the garlic. Once you smell the garlic (30 seconds or so), remove from the heat and set aside.
In a large bowl add the zucchini, carrot, parsley, dill, egg, feta, breadcrumbs, onions & garlic and season with salt and pepper. Go lightly on the salt because the feta will give the fritters saltiness as well.
Using your hands, combine all the ingredients really well.
With your hands, grab some mixture and work them into patties until you have used all the mixture.
Put the flour on a plate and keep it next to your stove top ready for when you begin frying the patties.
In a medium frying pan, heat some olive oil (cover the bottom of the pan and a little extra to shallow fry). Reduce the heat to a medium heat.
Coat each patty lightly with flour and then fry them slowly on the medium heat. Try not to turn them too often so they do not loose shape.
Serve stacked with tzatziki between each layer.
Top Tip: Be patient when cooking the fritters. Don't cover the whole pan in an effort to get it done quicker, cover maybe ½ to ¾ of the surface. You'll get a better result as the oil will distribute more evenly & the flipping will be a lot easier so they'll end up looking better!