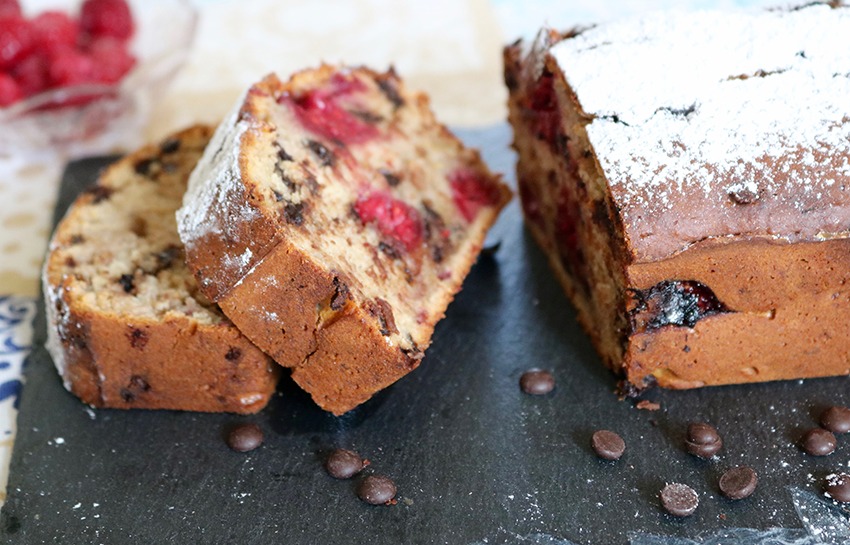 Raspberry Choc Banana Loaf
What do you feed your kids on school holidays…
When you truly want to be their sweet tooth hero…
And at the same time…
Make that treat kinda healthy…
To appease your conscientious parent gland?
Answer…
Raspberry, Choc Banana Loaf!
With this week's pick of the week being beautiful, plump & sweet NSW Spring Raspberries…
And no doubt more than one household being the proud owner of at least one or two ripe bananas given that the kids aren't packing a lunch box…
This week's recipe makes the most of the seasonal fruit bonanza!
Throw in a little dark chocolate, brown sugar & pure Aussie honey to give the kids what they want…
A sugar boost!
And everyone is happy!!!
The loaf is dense and moist, making it a super morning or afternoon snack that will keep the kids going between meals.
And to be totally frank…
I think the grown ups, in our house at least, could have liked it as much if not more than the kids.
Serve the loaf with a beautiful pot of peppermint or earl gray tea and you'll also have the perfect combination for grown-ups' afternoon tea!
Buon Appetito!
– – – – – – – – – –
Ingredients
1 cup raspberries
2 overripe bananas mashed
2 cups flour & a little extra to dust the raspberries
2 flat tsp baking powder
1 tsp ground cinnamon
1/3 cup brown sugar
¼ cup honey
2 eggs beaten
½ cup Greek style yogurt whisked
½ cup dark choc chips
50g melted & cooled butter plus a little extra for greasing
1 tbsp icing sugar for dusting
Method
Pre-heat oven to 180°C. Grease a 21cm x 11cm loaf pan with butter.
In a large bowl, sift flour, cinnamon and baking powder.
In another large bowl combine mashed banana with the honey. Once combined, add the egg, yogurt & butter and stir so ingredients are mixed evenly.
Make a well in the flour mixture and then add in the banana mixture stirring until just combined.
Add the choc chips and stir in until combined evenly.
Lastly, dust the raspberries in flour so when they are added they do not sink to the bottom of the loaf. Fold in the raspberries carefully then add them to the loaf pan.
Cook in the oven for 45-50 minutes or until an inserted skewer comes out clean.
Remove the loaf from the loaf tin and let it cool for around 5-10 minutes.
Dust with icing sugar & serve.