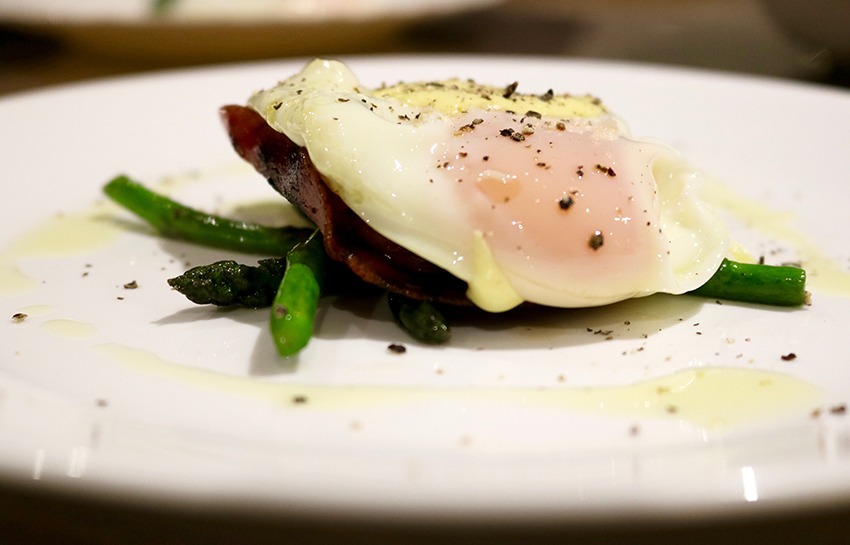 Baby Asparagus, Pancetta & Aioli Egg
When our eldest son started eating whole food
He loved veggies.
Pumpkin, broccoli, potato, zucchinis…
Veggie soup, mashed veggies and boiled veggies.
Then he turned 4 and things changed.
Potatoes, corn and cucumber were the only "veggies" he ate for most of the next 6 years…
And maybe the occasional broccoli floret!
When I started putting together this week's meal of the week,
I was positive all three kids would eat the egg…
Two might have a go at the "Italian bacon" – aka pancetta…
And zero would have a go at the asparagus!
When dinner was served…
All 3 ate their eggs….
Two tried, and liked the pancetta…
And my eldest,
Well…
He simply proved me wrong!
After 6 years in the veggie abyss,
Unless you include sweet potatoes chips as eating veggies…
Baby asparagus became our boys' veggie of the year.
He loved them!
He loved them so much he pretty much ate a bunch on his own!
I was as happy as a happy dad could be.
He may not have loved my first attempt at aioli…
But it I was willing to overlook that as I enjoyed watching him devour the asparagus.
If I learnt a couple of things for the next time I put this together,
It would be to go easy on the salt.
The pancetta & the parmesan give this plenty of saltiness,
As does the aioli,
So light handed is the way to keep the dish in balance.
Second lesson for the next venture with this dish,
Is that I'll make the aioli in advance.
Because it makes for less work on game day,
But even more importantly…
The aioli tastes twice as good after a night in a glass jar in the fridge!
This dish is peasant food at it's finest…
So be sure to get the best quality freshest eggs,
As if they just came out of the chickens you know what!
Fresh Koo Wee Rup asparagus is a must,
Because they're crunchy on the outside…
Yet so sweet and tender on the inside.
And serve it up with some crunchy ciabatta,
So you can mop up all the goodness of the gooey egg and aioli that will adorn your plate.
Egg, pancetta & baby asparagus may be a breakfast for some…
A brunch for others,
And a dinner for a few.
I went for the dinner option and I'll be doing that again next time.
Be sure to comment,
And let us know how you enjoyed your Italian inspired baby asparagus, pancetta & aioli egg!
The only thing left to say, is …
Buon appetito!
– – – – – – – – – –
Ingredients
2 bunches baby asparagus
4 slices of pancetta
4 eggs
Olive oil
Sea Salt
Cracked pepper
Grated Grana Padano (for serving)
Ingredients for the Aioli
1 egg
½ tsp mustard
2 small garlic cloves crushed
½ cup olive oil
½ lemon
¼ tsp salt
¼ tsp pepper
Method for the Aioli
In a small blender, add the egg, mustard & garlic.
Mix on medium until it's all combined well.
Start adding the olive oil slowly over the next 2 minutes, blending continuously until the mixture is a thick mayonnaise like consistency.
Season with salt, pepper & lemon and mix for a further 15-30 seconds. Taste to test.
The aioli is better day 2 so you can make in advance for sure! It will last around 3 days in the fridge.
Method for the Rest
Dry fry pancetta on medium-high heat until it has a little char. Keep in a warming oven (80°C) for later use.
Add some olive oil to the pan. Sauté the baby asparagus for 1-2 minutes. I like getting colour on them, but the key here is to retain the crispiness, so less time is best. Just before they're ready, squeeze the juice of half a lemon on them & season with a little salt and pepper. Set aside for later use.
Fry the eggs in olive oil so you get a nice soft yolk. My tip is use a small pan, lots of olive oil and cook on a medium heat, basting the eggs almost like a confit to get the yolks nice and gooey without burning the whites.
On a large plate, place 5 or 6 asparagus, drizzle a little aioli on them, top with pancetta and then the egg. Little blobs of aioli on the plate and lots of fresh grana on top for extra saltiness.
Serve immediately as brekkie, brunch, lunch or dinner!