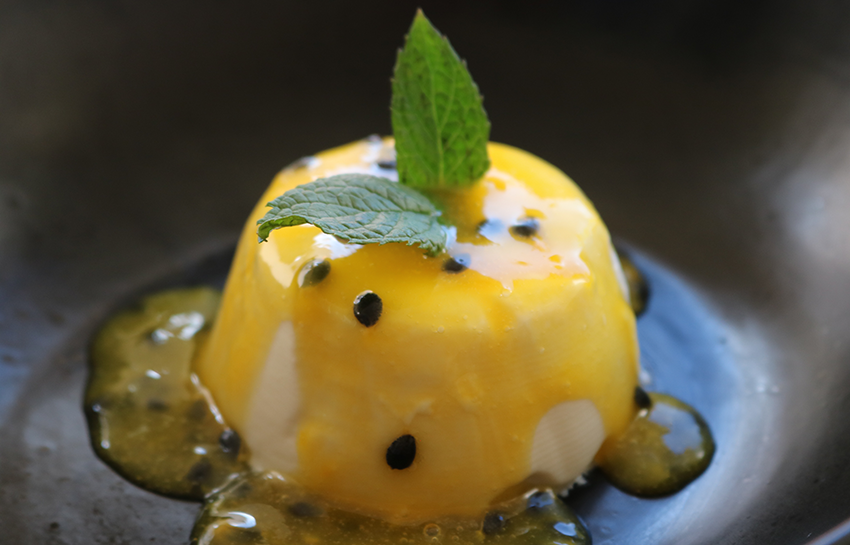 Passion Fruit & Vanilla Panna Cotta
All I'm saying is "how can cream & sugar taste soooooo good?"
When I was growing up, I considered panna cotta a dessert for old people with no teeth!
It seemed so boring to me compared to say cheese cake or pavlova.
Ok.
So sometimes I get it wrong.
Maybe it's because I never ate this version of this old Italian classic.
Wobbly, velvety, sexy panna cotta based…
Draped with vibrant, tangy, smash-your-whole-mouth full of flavor explosion, NSW passionfruit…
And when you get that first snap, crackle & pop of the black passionfruit seeds, you could be forgiven for mistaking it for dessert heaven!
Most of the time spent making this dessert is waiting for it to set.
The panna cotta base and passionfruit sauce will take you less than 20 minutes total.
Be patient.
Make sure your base is set.
And when it is…
All I'm saying is it's worth the wait!
As always, spend big on sourcing the best possible ingredients possible.
Passionfruit is as good right now as it's going to be all winter and…
Really, cream, milk & sugar…
You're going to have a top shelf dessert for less than a tenner…
And you can be assured that whoever you're making it for is gonna think you've just come out of a Zumbo masterclass!
Buon Appettito!!
– – – – – – – – – –
Serves 8
Ingredients
¾ full cream milk + ¼ cup cream, mixed together
2 cups of cream
½ cup brown sugar
1 tbsp vanilla essence
2 tbsp water
1 tbsp powdered gelatin
Fresh mint for garnish
Passion Fruit Sauce
8 passion fruits
1 tbsp sugar
Pinch of sea salt
Method
In a small saucepan stir gelatin into the water and let sit for about 1-2 minutes to soften. Heat the gelatin in the saucepan on low heat until the mixture has dissolved and then remove from the heat and set aside.
In a large pot combine the cream, the milk & cream and the sugar and bring the mixture just to a boil on medium high heat, continuously stirring.
Remove the mixture from the heat and stir in the gelatin and vanilla until combined.
Divide the mixture into eight portions in your moulds, and let them cool to room temperature.
Once at room temperature, chill in the fridge for at least 4 hours.
When ready to serve, turn out the panna cotta's onto individual serving dishes. You may need to dip the moulds into hot water for 3 seconds or so and run a knife around the edge of the mould to help the panna cotta out of the moulds easier.
Top with the passion fruit sauce (see instructions below), garnish with mint and serve.
Passion Fruit sauce
Cut passion fruits and empty pulp into a small saucepan.
Add sugar & pinch of salt and bring to the boil.
Once it's come to the boil, remove from heat and put through a sieve to separate the seeds from the sauce. Add a few tablespoons of the seeds to the sauce and stir well. Set aside for serving.