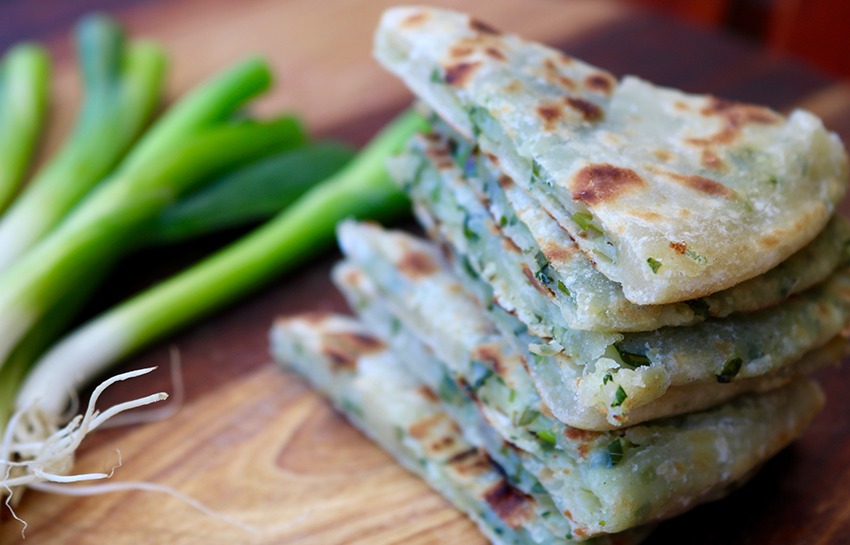 Spring Onion & Feta Tiganites (Pancakes)
When I think Chinese food…
I think dumplings, stir-fries, Peking Duck &…
Spring onion pancakes!
That's right…
I rate the spring onion pancake amongst the top Chinese dishes I've ever tasted…
And I've had a few!
There's something so comforting about the Chinese Spring Onion Pancake.
Crispiness,
Simplicity &…
A little bit of oiliness.
Add to that the saltiness if you're going with a soy dipping sauce…
And you've got the perfect side dish or entrée.
Being a Mediterranean recipe blog…
We had to make some adjustments to this classic comfort food.
First,
The name.
Replace the word pancake with "tiganites"!.
Pronounced tee-yar-nitt-ess…
It's literally Greek for fried dough.
Being Greek inspired,
We opted for feta cheese for saltiness…
And olive oil in lieu of the traditional vegetable oil used in the Chinese version!
The secret to the crispiness of our tiganites comes from an Auntie of mine in Greece.
When I asked her about getting tiganetes crunchy & crisp…
Without hesitation, Auntie replied "vinegar".
Today I only found white wine vinegar in the pantry…
And it worked a treat.
Aside from the actually pancake itself,
I suggest serving them with a sauce or dip.
We did a simple yoghurt dip,
Mixing yoghurt with a drizzle of olive oil, salt & some spring onion to stay on the Greek theme –
A garlicless tztaztiki if you like!
You could do hummus or a chutney,
I just worked with the yoghurt because that's what we had on hand.
Yes…
You could prepare the dough in advance…
As it does time to rest regardless,
And fry them up when required so they can be served warm or hot.
They do go alright cold too…
But I prefer them hot if I've got the time.
Toganites make a great side, snack or even a brekkie.
With the only thing left to say now…
Kali oreksi….
Greek for Buon Appetito!
– – – – – – – – – –
Makes 4
Ingredients
2 cups plain flour
½ tsp salt
1 tbsp olive oil
¾ cup boiled water
¼ cup cold water
2 cups spring onions chopped (green parts only)
100g Feta cheese
Olive oil for frying
Sea salt
Cracked pepper
Method
In a large bowl add the flour and salt and mix. Make a well in the middle and add the vinegar, mix together with your hands.
Make a well in the middle of the flour and add the boiling water first, then the cold water. Mix together and form a dough, using your hands.
Add the oil and knead into dough. When evenly combined roll into a ball and set aside for 30 minutes.
Divide dough evenly into four balls. Dust some flour and roll out the balls into flat circles.
Brush some olive oil on each piece and cover with spring onion, crumbled feta and season with pepper.
Roll into cylinder type shapes. Curl the cylinders into a snail coil. Roll snail into a flat circle ready to fry.
Heat some oil in a pan and fry each pancake on medium heat until browned.