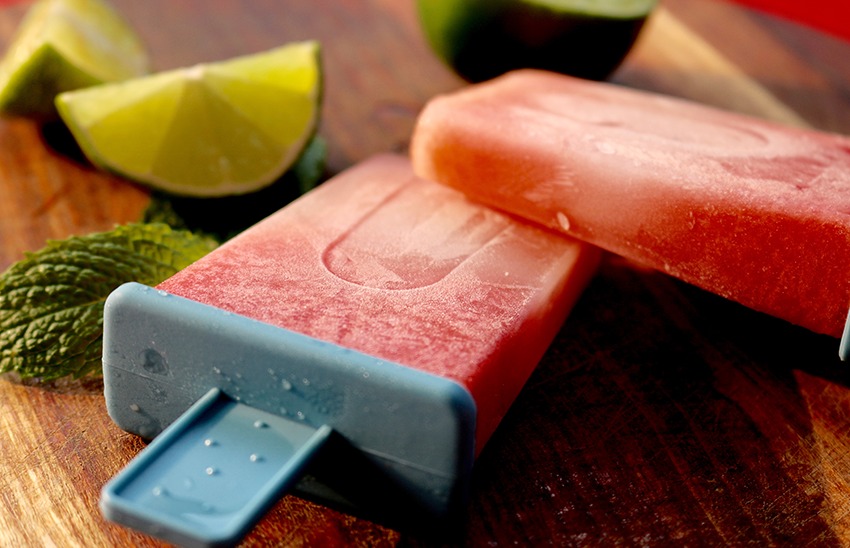 Watermelon, Mint & Lime Icy Pops
Don't you agree that…
Kids like the idea of school holidays,
More than school holidays themselves?
At least that's my take with our 3 kids!
Don't get me wrong,
If we go away,
They're loving life.
As are mum & dad!
But when they're on school hols…
And at home,
That's when the inevitable boredom sets in.
I try getting them to "block calendar" their days,
Into activities like lego time,
Reading time…
Outdoor time…
Electronics..
Lunch, snack and so on!
But they're just about as good at that as I am!
So when they were on the brink of a boredom moment yesterday,
Around the same time I was thinking up ideas for the recipe of the week,
Icy poles sprang to top of mind!
Given Joe's pick this week is super sweet,
Delicious eating,
And very well priced Queensland watermelon,
I thought what better way to showcase this week's recipe of the week,
Than getting the kids involved in some watermelon icy poles!
We, slash I…
Decided that we'd go sugar free,
And make them grown up by adding a lime & mint herbal infusion!
Whilst honey was a must given the omission of sugar…
And a trip to the shops had to happen,
Because I couldn't for the life of me remember where my icy pole moulds were!
Who hasn't had that problem in the kitchen before?
Preparation is the easy part with these icy poles,
With chopped watermelon…
And a herbal tea like infusion the only real process.
Patience being the more challenging aspect for this kids,
Who had to wait around 4 hours for their summer snacks to set!
Given the 30'C temperatures,
The wait was worth it!
At least for me and the boys…
With my little girl not convinced on the role of mint in an icy pole!
Her take was…
No mint, add sugar syrup next time!
Next time I make these,
I'll take her advice,
Maybe not with getting rid of the mint,
But I will make a sugar syrup rather than a tea,
Just to see the difference.
These watermelon, mint & lime icy pops,
Are not only tasty and refreshing,
They're also a great way,
To keep the kids entertained on the summer holidays.
All that's left to say now is…
Buon appetito!
– – – – – – – – – –
Ingredients
6 Cups Chopped Seedless Watermelon
½ Cup Boiled Water
10 Mint Leaves
1 Heaped Tablespoon Honey
Juice of Half a Lime
Method
Makes around 12 icy poles
Add mint leaves, lime juice & honey to boiling water. Allow to infuse for 8-10 minutes, then drain the liquid from the mint leaves. Set the tea aside to cool.
Blend the watermelon half way to a liquid. Add the tea and blend again until you have a liquid. Pour into moulds. Allow to set for at least 4 hours.