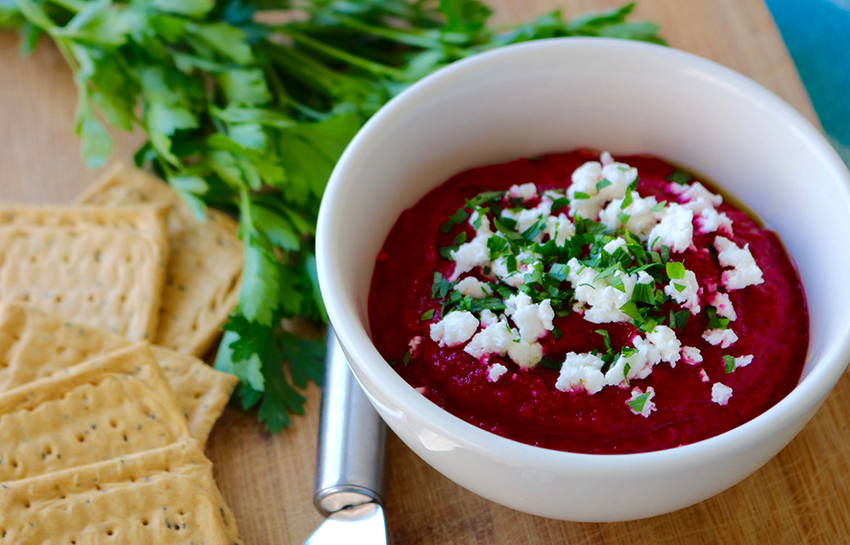 Egyptian Style Beetroot Dip
I've never travelled to the land of the Pyramids, Pharaohs & Cleopatra, but I must say…
This week's recipe of the week definitely transported me to another world!
We usually bring you Italian & sometimes Greek inspired Mediterranean dishes…
And I was sure the our Passionfruit panna cotta recipe from a few weeks back was going to be the brightest and most gorgeous dish we were to create this winter.
I may have got it wrong.
The deep reddy purple color of this Egyptian inspired beetroot dip is truly something to behold.
Such a simple, yet elegant dish, the hardest part about preparing the dip is getting the beetroot stains off your fingers!
Contrasted against the freshness on the palette and bright green color of freshly chopped parsley…
And balanced by creamy & luscious feta…
Our Egyptian inspired beetroot dip is sure to send you and your dining companions to a wonderful place too!
Buon appetito!
– – – – – – – – – –
Serves 4-6
Ingredients
4-5 beetroots or around 500g
4 cloves of garlic (skin on)
½ cup Greek style yogurt
Juice of ½ a lemon
2 tbsp parsley chopped
50g feta cheese
1 tsp ground cumin
1 tsp cinnamon
2 tbsp toasted pine nuts
1 tbsp olive oil & extra for drizzling
Sea salt & cracked pepper
Method
Pre-heat oven to 180°C.
Cut stems and tails off beetroot and wash them thoroughly. Wrap each beetroot in foil drizzled with a little olive oil & roast on a baking tray for 45 minutes or until tender.
While the beetroot is roasting, wrap the garlic in some foil, skin on, and drizzle with a little olive oil. Roast in the oven for the last 10-15 minutes alongside the beetroot.
Remove beetroot & garlic from the oven and let them cool.
In a small frying pan, dry fry the pine nuts until they have browned and are nicely toasted. Remove from pan & set aside.
Peel off the beetroot skins, they will peel easily, and chop up the beetroot into the bowl of your food processor.
Squeeze in the garlic out of their skins and add the yogurt, lemon, cumin, cinnamon, pine nuts and season with salt and pepper.
Blitz in the food processor until all the ingredients have combined nicely.
Remove from the food processor into a bowl and stir in the olive oil. Cover and let it stand in the fridge for about an hour or so, so that the flavours combine & develop nicely.
Serve in a bowl garnished with some feta and parsley.
You can enjoy the dip with crackers or flat pita bread, either way it tastes great!!