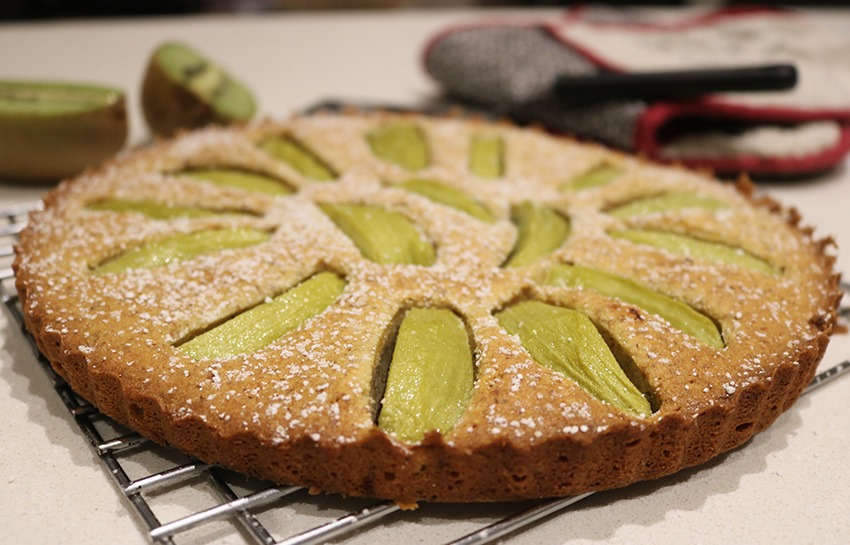 Super Easy Kiwi Tart
Almost all of us eat plums and apricots with skin-on…
And many,
If not most of us,
Enjoy apples & pears with skin-on!
But how many people do you know that eat kiwis skin-on?
Kiwi skin,
Much like other fruits' skin,
Is extremely high in fibre.
Yes…
It is very very good for you.
But…
I don't know!
You gotta draw the line somewhere don't you?
The thought of eating that furry, brown skin…
I personally prefer,
And will continue to prefer my kiwis peeled!
It's the peeled variety that features in this weeks' recipe of the week!
We've all seen kiwi on pavs,
And also in fruit salads…
But how often have you seen a cooked kiwi desert?
I bet not that often.
Do you know why?
Kiwi is rarely used in cooked deserts because of an enzyme that goes funny when it's heated!
The trick is to keep the kiwi in large pieces, which avoids that happening.
That's why we've only used kiwi on top of the tart,
In nice large pieces,
And avoided chopping it through the base,
Like you would with say berries or apples!
The tanginess of the kiwi fruit combined with lemon zest,
Was just what the lovely, sweet and fluffy tart base needed.
And some whipped cream to serve gave it that extra lift.
Kiwi is not what I usually think of when it comes to sweets,
But I will definitely be baking kiwi tart again this season!
Buon appetito
Or as they say in New Zealand,
Enjoy!
– – – – – – – – – –
Ingredients
2 large kiwi fruit peeled and cut into eighths
80g butter softened
2 eggs
1 cup almond meal
1/3 cup wholemeal spelt flour
½ tsp baking powder
¼ cup brown sugar
Zest from 1 lemon
Method
Pre-heat oven to 160°C.
Grease a 25cm round baking tin.
In a large bowl whisk together the sugar and butter until well combined.
Whisk in the egg until well combined.
Add the almond meal, wholemeal spelt flour, baking powder and lemon zest and mix with a wooden spoon well until all ingredients are combined evenly.
Pour mixture into the baking dish and even out with a spatula.
Push the kiwi eighths around the top of the mixture and then bake in the oven for around 30 minutes or until a skewer poked through comes away clean.
Serve with whipped cream.