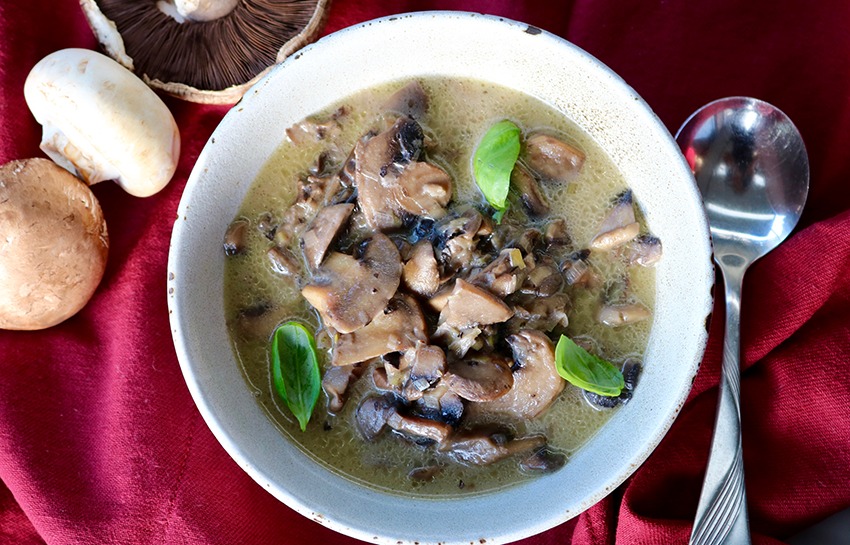 Mushroom Soup
What's the perfect meal for the start of a Melbourne Summer?
Is it a refreshing green salad???
Nope!
Maybe some prawns on the barbie?
Wrong again!
What about a…
Soup?
Correct!
You guessed it,
Or maybe not…
But because this Melbourne summer feels more like a London Spring…
Than a Melbourne summer…
And not even as warm as a London Summer for that matter…
We decided soup would feature on this week's menu!
With Joe's pick of the week being mushrooms…
Of the flat & cup, white & Swiss brown varieties…
I got to work with on my not so summery mushroom soup.
Sticking with the wintery theme,
I started off with finely sliced leek,
Giving this soup a lovely sweetness…
And a more delicate and mild finish, compared to using regular onion.
This is not to say that you couldn't substitute the onion for the leek…
I just think it's a little nicer in a soup to go for leek!
Sautéing the leek,
With a hint of garlic so as not to over power the dish…
I then added my sliced mushrooms,
Giving them a good 10 to 15 minutes on the pan…
Which allowed the flavour and colour of the mushrooms to develop,
Before I added any liquid.
The main thing I want you to avoid at this point is the leek and garlic browning,
As it will taste burnt in the soup.
Turn down the heat if you're worried about that…
And take a little longer to get your mushrooms browned.
Keeping to a meat free them…
I added vegetable stock as the base liquid of my soup.
Again,
Chicken stock or beef stock would be fine…
As of course would a mushroom stock…
But I've opted for veggie as I'm off meat for a couple of more weeks.
My usual heavy hand when it comes to seasoning needed to be restrained too…
As stock is naturally high in sodium,
So in the early stages of frying off your mushrooms,
Go real light on salt until the stock has been added,
And then you'll know exactly what you're dealing with.
Lots of pepper throughout is a must however…
As this will give balance,
To the sweet elements like leek and coconut milk.
That's right…
Once you've given the mushrooms and leek a good 10 minute simmer in a closed pot…
You add coconut milk!
This will give the dish a gorgeous creamy and silky finish…
Without leaving you feeling heavy and bloated!
Again,
I go around 10 minutes of simmer for this last stage,
Lid on,
Which ensures you've got plenty of liquid left in your soup.
This is a really hearty, warming and earthy dish,
Full of lovely fibre, vitamins and protein from the mushrooms.
I served mine topped with chopped fresh chilli and basil.
Coriander & Thai basil would also be lovely with the coconut mushroom combo…
And even parsley would be good if that's what you had.
The freshness of the herbs round out a really simple and delicious dish…
And the chilli not only gives the dish punch,
It also takes the edge off the sweetness of the leek & coconut milk.
I didn't mention that I used Worcestershire sauce in the early stages when I was frying off my mushrooms and leek.
It gives a really punchy flavour note and elevates the mushrooms,
As well as giving some saltiness to the dish aside from the salt you add.
You could substitute soya sauce if you wanted to make the dish vegan,
As many Worcestershire sauces contain anchovy…
Or you could find a vegan option!
The recipe makes around 3-4 serves,
Depending on how hungry you are.
We served it with crunchy bread…
Drizzled with some olive oil…
And a little salad.
I ate it for dinner and lunch the next day…
And it was great on both occasions,
So you could always up the recipe if you wanted to have more for leftovers.
It may be a cold start to summer…
But I am very grateful to the weather gods,
As I really enjoyed this dish.
It was one of my favourites of the year…
And there is every chance I'll give it another go before the years' out!
All that's left to say now, is…
Buon appetito!
– – – – – – – – – –
Ingredients
800g mixed mushrooms (Swiss browns, flats & cups) cleaned and sliced
1 garlic clove crushed
1 leek white part only diced
1 400g can unsweetened coconut milk
2 tbsp Worcestershire sauce
2 cups vegetable stock
¼ cup olive oil
Basil for garnish
Sea salt
Cracked pepper
Method
In a large deep pan, heat the olive oil and sauté the leeks.
Add the garlic and when you start to smell the garlic, add the mushrooms. Cook stirring for 10-15 minutes.
Add the Worcestershire sauce and keep sautéing for another minute. Lightly season with salt and pepper.
Add the stock and bring it to the boil, then simmer covered for 10 minutes.
Add the coconut milk and stir to combine. Bring it to the boil again and then simmer covered for 10 more minutes.
Remove from heat and serve garnished with basil and some crusty bread.