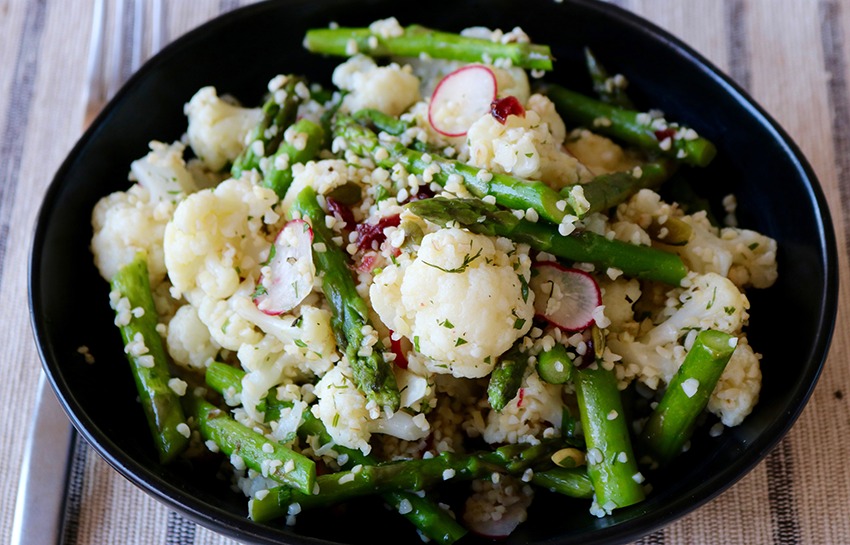 Asparagus & Cauliflower Bulgur Salad
Love him or hate him…
You must admit that Jamie Oliver is an inspiration to so many of us home cooks!
And that's why I admit that today's recipe…
"Asparagus, Cauliflower & Bulgur Spring Salad"…
Is inspired by Jamie and in particular his Farro, Asaparagus & Cauliflower salad.
Before we start comparing…
I'm just gonna put it out there and say that our version is better!
Big statement right?
I reckon that both on the eye & on the palette, ours has the edge on Jamie's and here's why…
We've gone for cranberries instead of sultanas…
Clearly easier of the eye and for me they work brilliantly on the palette too!
Jamie's gone for pine nuts.
They're lovely and have their place…
But our slightly toasted pepitas win hands down with super crunch and…
A much toastier and full flavour which this salad needs.
Our radish v Jamie's chard is the last difference I'll mention.
C'mon!
How sexy does our radish look compared to Jamie's chard?
And the texture of our radish means each mouthful of our salad is a little more exciting than chomping on Jamie's chard!
We've had a bit of fun today but the reality is…
Jamie is a legend and he'll keep inspiring me and many others for many years to come.
Thanks, JO.
Buon appetito!
P.S. Here's the link to Jamie's recipe in case you wanted to compare for yourself!
– – – – – – – – – –
Serves 6
Ingredients
1 cup bulgur prepared as per packet instructions
1 bunch asparagus ends snapped
1 small head of cauliflower
3 tbsp cranberries chopped coarsely
50g radish sliced thin
¼ cup pepitas toasted
Olive oil
Sea salt & cracked pepper
For the Dressing
1 tbsp dill chopped finely
2 tbsp parsley chopped finely
½ cup olive oil
2 tbsp apple cider vinegar
Sea salt & cracked pepper
Method
Prepare bulgur as per packet instructions & set aside.
Cut the cauliflower into florets and boil in a pot of salted water until just softened. Strain and set aside to cool.
Heat a medium pan. Add the asparagus and drizzle with some olive oil. Pan fry until asparagus just softens. Remove from heat and set aside. Once cooled, cut spears diagonally in two.
In a large bowl, combine the bulgur, cauliflower, asparagus, cranberries, radish & pepitas.
In a jar combine the olive oil, vinegar, parsley, dill & season with sea salt and cracked pepper. Give the jar a shake to combine the ingredients.
Pour dressing over the mixed ingredients and combine well so that all the mixture is evenly covered.
Serve.