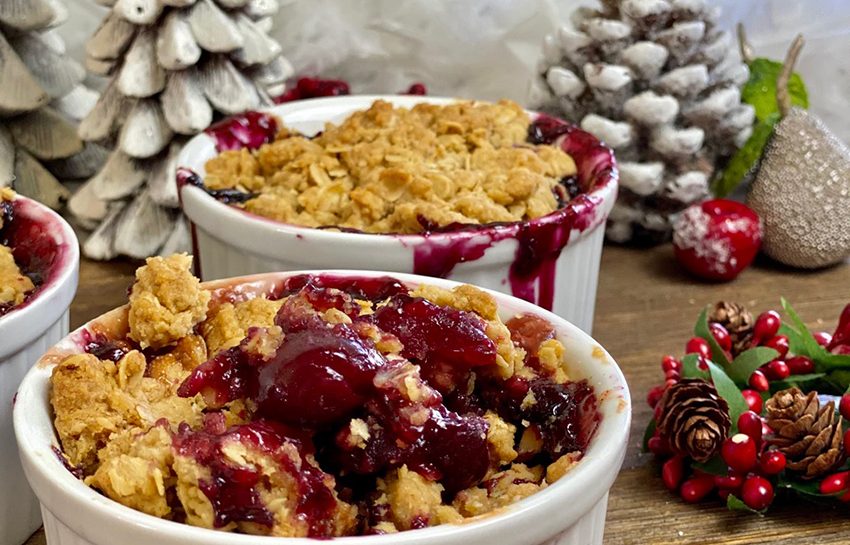 Cherry Crumble
You know it's Christmas when cherries hit the table!
This simple cherry crumble will no doubt become a favourite for cherry lovers.
The juices from the cherries combine with the sugar and lemon to create the most unbelievable jammy sauce.
And it's so simple you can throw it together with pantry staples! Just don't forget the cherries!
– – – – – – – – – –
Makes 4 individual crumbles
Ingredients
500g cherries, pitted and halved
¾ c sugar
2 tbsp lemon juice
2 tbsp cornflour
1 tsp vanilla extract
Pinch salt
½ c oats
½ cup plain flour
1/4 c brown sugar
Pinch salt
60g butter, cubed and chilled
Method
Preheat oven to 180°C.
Combine cherries, sugar, lemon juice, cornflour, vanilla extract and salt in a bowl.
Divide cherry mix between 4 ramekins.
Combine oats, flour, brown sugar and salt in a bowl.
Add the butter to the oat mix and using your fingertips rub the butter into the mix to create the crumble.
Spoon the crumble over the cherry mix and place in the oven.
Bake for about 35 – 40 minutes or until the crumble is golden brown and the cherry mix is bubbling.
NOTE: If the crumble looks like it's browning to quickly cover it with foil.