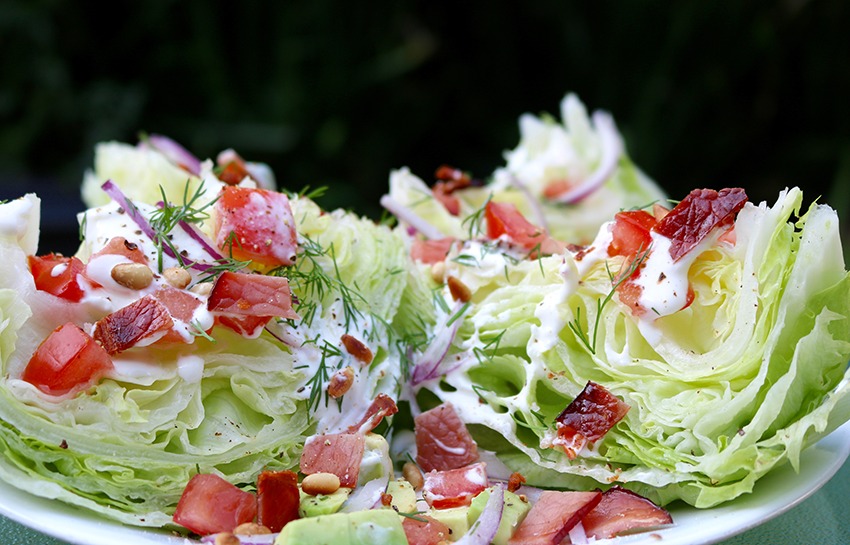 Iceberg BLAT
If you threw crisp smoky bacon onto a pair of old leather shoes…
You could probably make them taste good!
We're not serving up old shoes today…
But…
When you combine that crispy smoky bacon with tangy yoghurt & lemon dressing…
Add some gorgeously creamy avocado…
Toasted, nutty pinenuts for more crunch and flavour…
And then drizzle this beautiful mixture over crisp, refreshing & tender Victorian peak season iceberg,
You have yourself the perfect summer salad!
No!
Let me correct that…
The perfect meal for a ridiculously scorching Melbourne summers' day.
A meal that will allow you & your friends or family to best cope…
With the scintillating heat…
That the Melbourne weather Gods have given us as an end of week parting gift!
Or maybe it's an end of week punishment???
Anyways…
Even us wine lovers should consider serving this salad up with an icy cold crisp & refreshing pale ale…
And the lucky ones might even be enjoying a dip in a cool pool to boot.
Happy summer days!
Buon appetito
– – – – – – – – – –
Ingredients for the Salad
½ a large iceberg lettuce cut into four wedges
1 avocado chopped into squares
4 rashes of bacon
½ medium red onion sliced
1 heaped tbsp pinenuts
2 gourmet tomatoes chopped into squares
¼ cup dill chopped
Ingredients for the Dressing
½ cup Greek style yogurt
Juice of ½ a lemon
Sea salt
Cracked pepper
Method
Pre-heat oven to 200°C.
Place a wire rack in an oven baking tray. Place all four bacon rashes on the rack and cook in the oven for 20-25 minutes or until crispy. Once they are ready, dab with paper towel and chop into medium squares and set aside.
Meanwhile, in a small pan, toast your pinenuts on a medium-low heat until nicely toasted. Set aside to cool.
In a small bowl combine your yogurt with the lemon juice and season with salt and pepper. Stir to combine and taste to see if extra seasoning is required.
Arrange your four iceberg wedges on a serving plate.
Drizzle with some yogurt dressing then scatter the bacon, onion, avocado, tomato & pinenuts over the top.
Drizzle with more of the dressing and then garnish with the dill. You can use less dressing or all of it.