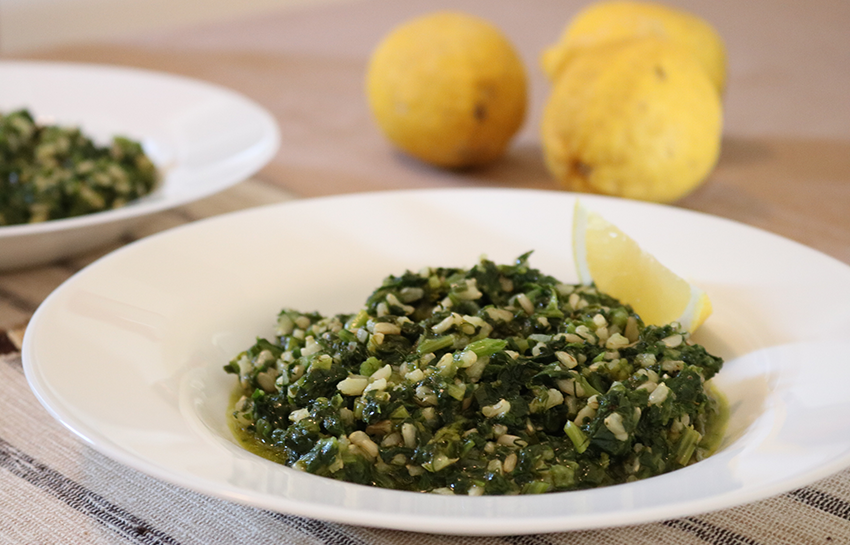 Spanakorizo (Spinach Rice)
What's that dish that you just couldn't stand as a kid, and yet now, at a more "mature" age, you just can't do without it?
Mine's definitely Spanakorizo!
Greek for "spinach rice," Spanakorizo is a dish that I now cook with anticipation… anticipation of the lemony, tangy spinach, combined with gorgeous, nutty and al dente brown rice. You can make it so the liquid totally disappears, and I don't mind leaving a little broth so it almost could've been a soup. Feta cheese is a must with this dish, and black olives too.
I'm not sure what's changed over the years to change my opinion of this dish. Maybe with time the palette changes. Maybe it's that my doctor says that I need to up my greens for more fibre. Or, maybe it's that I cook it better than mum & gran did (sorry guys)!!!
Buon appetito!
Serves 4
INGREDIENTS
1kg spinach washed well & finely chopped (You can blanch before chopping to make it easier; just wring out the excess water before chopping the spinach.)
1 cup brown rice
4-5 spring onion sprigs chopped
¾ cup chopped dill
¾ cup olive oil
1 lemon
Sea salt & cracked pepper
METHOD
Put the brown rice in a pot, cover with water and boil for 20 minutes. Drain rice and put to the side.
Heat some of the oil in a large pot and sauté the onion. Once softened, add the spinach and salt & pepper and cook, stirring, for 2 minutes.
Add the brown rice, dill, remaining oil and 1 cup of water.
Once Spinach has wilted you will see the liquid. Bring to the boil and then reduce to a simmer and cook for 20 minutes or until the rice is soft or most of the liquid is absorbed.
This recipe is best served warm. Any extra liquid should be absorbed while it gets to the right temperature for serving.
Squeeze on some lemon juice and serve with some feta and black olives.
Tip: You can add a couple of tablespoons of organic tomato paste to this recipe.