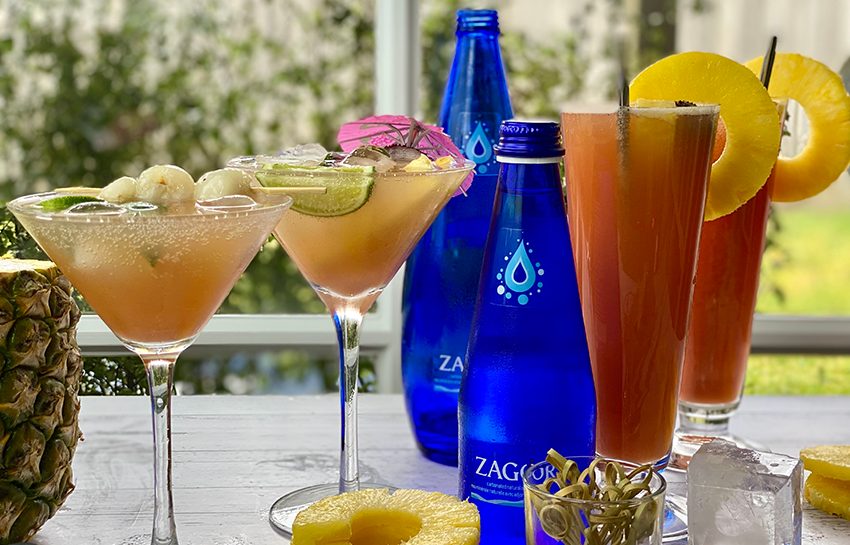 Pineapple Tropical Mocktails
We are addicted to our sugar pineapples right now and with summer on our doorstep we couldn't resist the allure of a tropical mocktail or two!
Either of these drinks will be great with a splash of vodka, white rum or Cointreau.
The best cocktail or mocktail recipe is the one that tastes the best to your tastebuds at the end of the day. This recipe is just a rough guide. It all depends on what you like to drink and ultimately how big your glass is!
Go for gold, pineapple gold that is, and play around with these fruity flavours. Just remember to tell the kids if you add booze to them!
– – – – – – – – – –

Ingredients
1 pineapple, juiced
1 pineapple, slice for garnishes
Guava juice
Mango juice
Sparkling water
Method
Try equal quantities of juice and alter to taste from there.
Too fruity? Add more sparkling water.
Prefer the taste of pineapple over mango, add less mango and more pineapple. Or if you don't like mango at all leave it out!
A splash of Angostura Bitters is always a good addition too! Blood oranges are delicious touch also!
Garnish with pineapple, lime and lychees — thread lychees onto toothpicks, add circles of pineapple, and slices of lime. If you have mint leaves on hand, throw some of those in too!