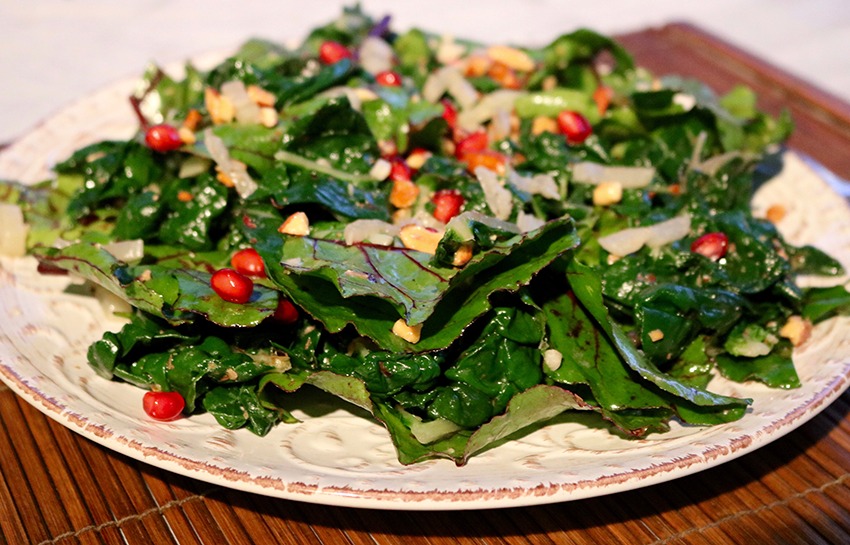 Silverbeet, Beetroot Leaf & Pomegranate Salad
Christmas came early for us this week…
As silver beet and chard,
Came together with pomegranates and almonds,
In this week's recipe of the week…
Warm Chard, Almond & Pomegranate Salad!
Red and green are definitely Christmas colors,
And the ingredients in our warm salad are typical of European winters…
Zesty lemon juice,
Nutty roasted almonds…
And extra virgin olive oil,
Draped over sautéed silver beet…
And gorgeous fresh chard leaves!
Sensational on the eyes,
Fabulous on the palette…
And about as nutritious as a salad can get!
If I were to do something different,
It would be shredding the chard rather than chopping it roughly.
Although I loved it as is…
It was a little fibrous for those who aren't into leaves as much as me.
We ate it warm on Day 1…
And we ate it cold the next day too!
It was better served warm on Day 1 but…
I quite liked leftovers on Day 2 too!
Because it's winter,
It's ridiculously cold…
We enjoyed a glass of Shiraz with our salad!
I can highly recommend the pairing…
But in moderation of course!
The only thing left to say…
Is,
Buon appetito!
– – – – – – – – – –
Ingredients
1 bunch silver beet leaves, middle stalk removed, roughly chopped
1 cut silver beet stalks sliced
Leaves from half a bunch of baby beetroot roughly chopped
4 small garlic cloves finely chopped
½ cup pomegranates
1/3 cup roasted almonds crushed
Juice of half a lemon
4 tbsp olive oil & a little extra for drizzle
Sea salt
Cracked pepper.
Method
Heat oil in a wok and sauté garlic on medium heat until you can smell it, around 20 seconds.
Add silver beet stalks and sauté for 2 minutes stirring constantly so you don't burn the garlic.
Add the silver beet and ¼ cup of water and cook until it wilts or around 2.5-3 minutes.
Remove from heat and strain the excess water from the silver beet.
Put silver beet mix in a bowl and allow to cool.
Add the beet leaves, almonds, pomegranates, lemon juice and a drizzle of olive oil. Season with salt and pepper to taste and toss to combine all the ingredients evenly.
Serve.