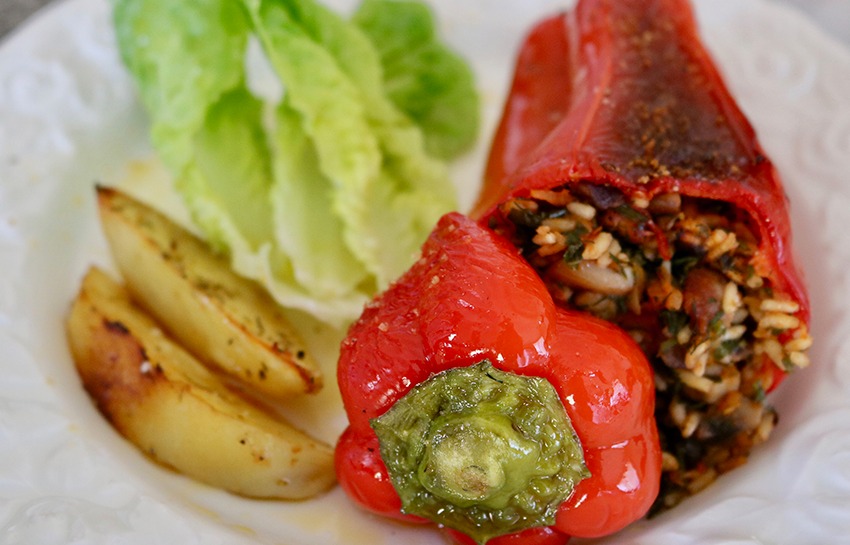 Smoky Bacon & Mushroom Stuffed Red Caps
As I walked into the house…
A gorgeous smell filled my nostrils…
And instantly made me feel warm & comforted.
Some say that the way to a man's heart is through his stomach,
But I think that it starts even earlier,
And you need to please his eyes and his nose first!
A combination of garlic, onion and bacon were to thank for my heightened mood…
Along with the anticipation of what was being prepared for dinner!
Food is so much more than just flavours.
From the moment I am in a store choosing my ingredients…
Or if I am lucky enough to be cutting them fresh out of a garden…
The meal preparation has begun.
Summer is one of my favourite times for cooking…
With veggies like tomato, zucchinis, eggplants and red caps…
All in abundance and all so colourful and tasty!
So this week,
With Joe suggesting excellent quality SA red caps as his pick of the week…
I thought what better way than to showcase the red cap,
Then by keeping them whole,
And stuffing them with lovely veggies, aromatics and herbs!
Last year,
We did a vegan take on this dish,
That involved stuffing tomatoes.
This week,
I've opted for the classic combination of smoky bacon and mushrooms.
Why?
Because red caps are pretty sweet,
And the saltiness of the bacon,
Is a great way to get depth of flavour,
And natural contrast to the sweet skinned red cap.
Parsley and dill are all part of the traditional Greek version…
And they give much needed freshness and colour to the dish.
You could use mint or spring onions if you had them…
The more herbs the better I think.
Pine nuts are another addition of mine.
The crunch and nuttiness giving the dish yet another dimension…
Making each spoonful even more interesting than if you went without.
This is known as a "la-there-ro" dish in Greek…
Literally an oily dish.
Not oily in the sense that we know in Australia…
But in the sense that its core ingredient and energy source is olive oil.
You might feel that the olive oil suggestions in the recipe are above your comfort zone.
If so, go ahead and adjust.
As with other Greek style dishes,
Serve with feta.
And a lovely garden salad provides you with all that is needed to complete this meal.
All that's left to say now is…
Kali Oreksi.
Greek
For Buon Appetito!
– – – – – – – – – –
Ingredients
6 medium SA red capsicums
8 large button mushrooms diced
2 small red onions diced finely
2 garlic cloves chopped finely
1 carrot grated finely
1 bunch dill chopped
1 bunch parsley chopped
6 rashers of bacon diced finely
1 400g can diced tomatoes
1 cup liquid (stock or water)
¾ cup long grain rice
50g pine nuts toasted
3 desire potatoes cut into wedges
1 tbsp breadcrumbs
¾ cup olive oil (and a little extra drizzling)
Sea salt
Cracked pepper
Dried oregano
Method
In a deep pan, heat ¼ cup olive oil and begin to sauté the onion. Once the onion is translucent, add the garlic and cook until you can smell the garlic, about 1-2 minutes.
Add the bacon and cook until it has browned lightly. Remove from the pan and set aside.
In the same pan you cooked the bacon, add a drizzle of olive oil and sauté the mushrooms until they have browned.
Add the carrot and cook stirring for 1 minute. Add the bacon mixture back, stirring to combine the ingredients evenly, then add the rice and keep stirring for about 1 minute.
Add the diced tomato and the stock and season with salt and pepper. Cook on a medium heat for 5 minutes.
Remove from the heat, add in the pine nuts, parsley and dill, then cover the pan with a lid and set aside.