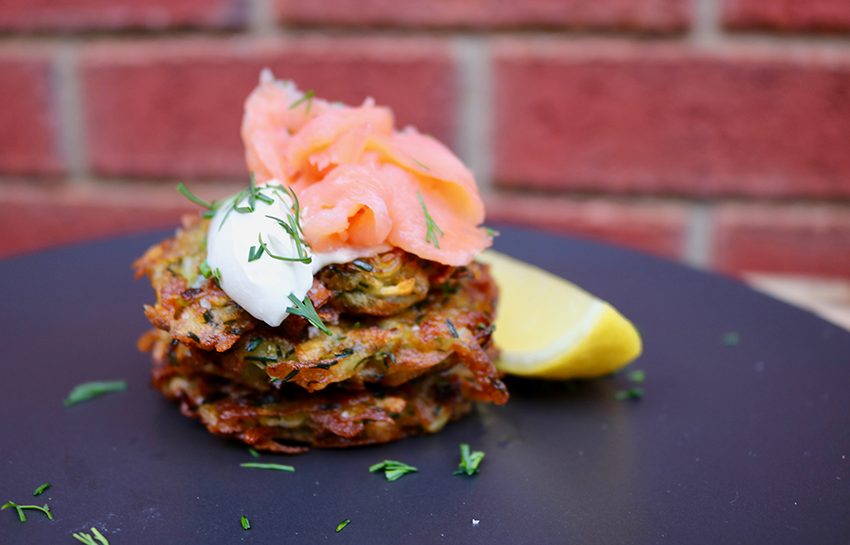 Potato & Leek Rösti
I think it was The Lyall Hotel in South Yarra…
Many years ago,
When my friend Julian and I,
Ventured out for a cheeky Sunday brunch.
Just the boys.
No kids those days.
A little groggy after a late Saturday night.
No doubt Julian started with a cafe latte…
And no doubt I said I'll wait until after brunch for my coffee…
Because that's how I roll!
I can't be too sure what I ordered for breakfast,
Only because Julian,
Or Jules as me and his other mates affectionately refer to him,
Ordered the most memorable brunch,
I can ever recall someone ordering.
It kind of went like this…
Eggs Benedict,
Hold the muffins,
Two,
Or was it three hash brown instead,
And instead of ham,
Lots of crispy bacon,
Serve it in a stack,
And drown it in the hollandaise sauce!
If you think that's a mouthful to say…
Imagine what that's like to eat.
One,
Maybe two bites for curiosities sake,
But any more…
And you might be paying the doctor a visit later that same week.
I never have opted for the Jules Special,
But I am a hash brown fan…
More a potato rosti guy to be precise.
No hollandaise in my version,
But plenty of flavour,
Texture…
And that iconic,
And expected crunch,
As I take the first bite straight off the sizzling pan,
And into my mouth.
If you're up for a toned-down version of the Jules' special,
I think this week's recipe should have you covered.
That's all for today.
All that's left to say now is.
Buon appetito
– – – – – – – – – –
Ingredients
1kg Desiree potatoes, peeled and coarsely grated
1 leek chopped finely
1 cup chopped dill, reserve some for garnish
2 tbsp flour
½ cup olive oil
Sea salt & cracked pepper
100g smoked salmon
Sour cream to serve
Method
In a small pan heat a little olive oil and sauté the leek until tender.
Remove from the heat and set aside.
In a large bowl add the potato, leek, dill, flour, salt and pepper.
Mix together to evenly combine all the ingredients.
In a medium frying pan heat the ½ cup olive oil. Once the oil is hot reduce it to a medium heat.
Scoop 1 tbsp of the mixture and mould together using your hands then add them to the pan.
Using a spatula, press the balls down flat and cook them on a medium heat until they are nicely browned, crunchy and cooked through.
Place them on some paper towel to soak up the extra oil.
Serve with some smoked salmon, sour cream and garnished with dill.