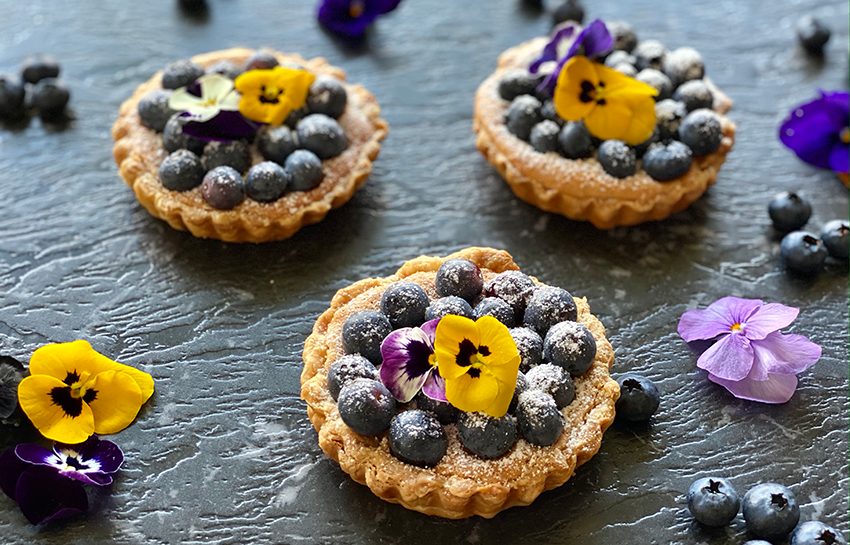 Blueberry & Frangipani Tart
This recipe is the perfect dessert leading into the milder weather spring brings with her.
It's lush, but much lighter than the pies and crumbles we crave in winter.
The recipe makes 6 smaller tarts or one large one.
– – – – – – – – – –
Ingredients
1 roll good quality shortcrust pastry
1 egg
100g almond meal
100g butter, melted
90g raw sugar
Zest 1 lemon or orange
1 tbsp vanilla extract
2 punnets blueberries
Icing sugar
Edible flowers, just to be fancy if you feel like it!
Method
Preheat oven to 190°
Press pastry into the tart tin, lay a sheet of baking paper over the pastry, tumble in some pie weights, and then pop in the fridge to chill for an hour or two.
Blind bake as per pack instructions and allow to cool.
Combine egg, almond meal, butter, sugar, zest and vanilla extract, and then spoon into tart.
Now you have two choices!
If you like your blueberries cooked, gently press them into you tart and bake for 18 – 20 mins or until just set.
If you prefer a burst of fresh berries, bake the tarts for 15 mins or until golden, remove from the oven, and then quickly push the blueberries into the tart starting from the middle and working outwards.
Dust with icing sugar and a few edible flowers if you are using them!