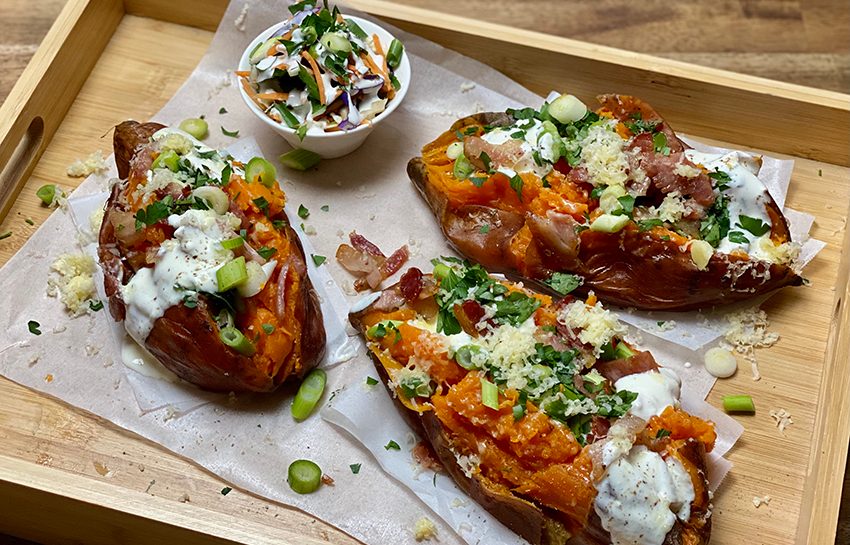 Loaded Sweet Potatoes
These slow-cooked loaded sweet potatoes are the perfect comfort food as we head towards late autumn and weather is getting colder.
If you have vegetarian friends or family leave out the bacon.
– – – – – – – – – –
Ingredients
4 sweet potatoes, all similar size
Olive oil
Coarse salt
Cracked Pepper
4 rashes bacon, sliced into thin strips
4 spring onions, sliced
1 tub sour cream
Coleslaw, to serve
Method
Preheat oven to 150°C
Cut 4 sheets of foil big enough to wrap your sweet potatoes a few times.
Rub each potato with olive oil, season with salt and pepper, and tightly wrap in foil.
Bake for 90 mins or until cooked through – insert a skewer and if it doesn't meet any resistance it cooked.
Remove from oven, take off the foil, place on a place and cut a cross in the middle. Gently squeeze from the outside in so the potato pushes up and out of its skin a little.
Meanwhile, fry the bacon until crisp and place of paper towel to drain.
Load those sweet potatoes up and enjoy!