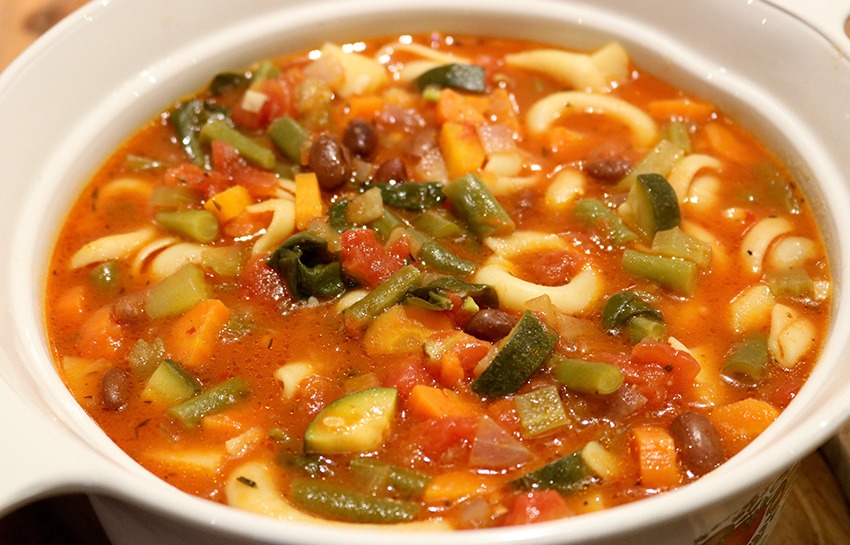 Minestrone Soup
Minestra is literally Italian for soup!
And adding the suffix "one" on the end…
Or big for those who are more comfortable in my native tongue…
Gives you a "soup that's big"!
I'm sure many of you have enjoyed a big, bold, hearty & wholesome minestrone at some time or another!
Am I right?
With winter chills still featuring throughout August,
A hot and hearty minestrone is just what I needed to warm myself up.
There's something so special about cooking with the cheapest seasonal ingredients…
Like potato, carrots & celery…
And coming up with such a rich & flavoursome meal.
Art, not a science is what I want you to be thinking with this soup.
If you don't have borlotti beans, choose something else like a great northern or a black bean.
If you don't like orecchiette pasta…
Go for little elbows or maybe a rizoni if that's more your thing!
And depending on the season,
You may go for fresh rather than canned toms!
Adelaide toms have just started and could be a super addition.
Now I ate mine on Day 2,
And I reckon it was better than Day 1…
So making a big batch might be a good idea if there's lots of you, or if like me you don't mind cooking once and eating twice.
Spring is in the air as August comes to an end…
But Melbourne is definitely THE place to enjoy a soup well into spring!
Just add lots of crusty bread,
Maybe a glass of red…
And two or three napkins to wipe your face down if you eat anything like me!
All that's left to say is…
Buon appetito!
– – – – – – – – – –
Ingredients
2 large celery stalks chopped
2 carrots chopped
Handful of green beans chopped
1 zucchini chopped
2 cups spinach
1 medium potato diced
1 cup parsley chopped
2 400g cans diced tomatoes
1 400g can borlotti beans
4 garlic cloves chopped finely
1 red onion diced
2 bay leaves
½ tsp thyme
Sea salt
Cracked Pepper
1 ½ cups orecchiette pasta
4 cups chicken or vegetable broth
2 cups water
¼ cup olive oil & a little extra to drizzle
Parmesan for garnish
Method
Heat the olive oil in a large pot over medium high heat.
Add the onion, celery and carrot and sauté until the onion is translucent, around 5 minutes.
Add the garlic, potato, green beans, zucchini and cook until you the garlic is fragrant.
Season with salt, pepper and add the thyme and bay leaves, then add the tomato, broth and water. Bring to the boil and then reduce to a simmer for 15 minutes partially uncovered.
Add the spinach, parsley, borlotti beans and the pasta and simmer for another 15 minutes. Season with some more salt and pepper if required and add a little extra water as it is cooking if required.
Serve with garnished with a drizzle of olive oil, grated parmesan cheese and with some crusty fresh bread.