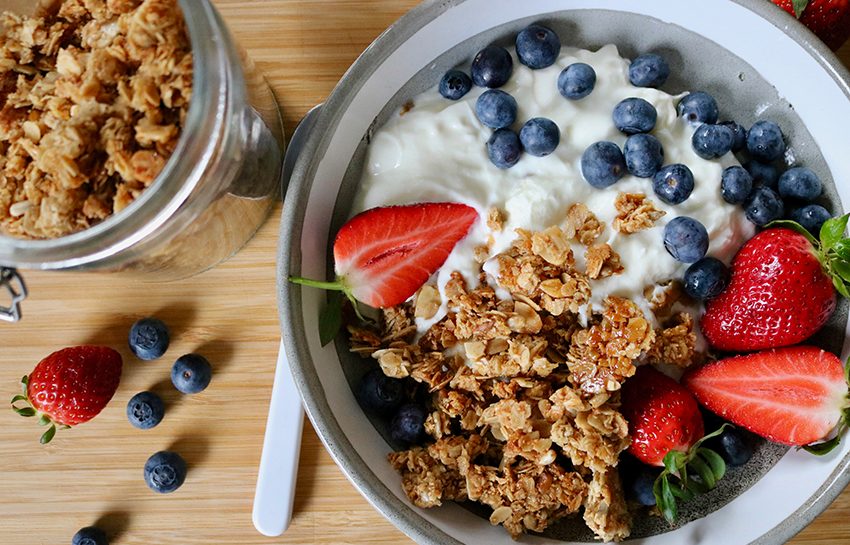 Home Made Granola & Mixed Berries
Breakfast in a box seems so normal,
Doesn't it?
Corn Flakes…
Coco Pops…
Weet Bix…
And Rice Bubbles,
Some of the most memorable brands of my generation,
And for so many generations before and after mine too.
Breakfast in a box still plays a huge part in so many people's lives…
And still somewhat in our home too!
My boys eat Weet Bix once, twice or even 3 times a week.
We opt for organic,
And I suppose that's an easy way to feel better about the box!
Our daughter will occasionally twist our arm into a box of organic coco puffs…
Made from chick peas and not wheat!
Again…
Probably our attempt at compromise,
With a ten year old girl who is not a breakfast fan most days of the week…
Unless it's pancakes,
Or fried egg,
Which typically happens of a Sunday,
When the pace is a little slower!
And I do understand that these days,
And in our store included,
There are many more wonderful,
Healthy,
And delicious brekkie choices,
That might come in a box…
Or maybe a bag…
And even by the scoop….
But that's not what I wanted this week!
This week,
I really wanted to enjoy a breakfast that might look like it could come in a box,
But instead,
Is made at home,
Slowly,
With love,
And with ingredients that I have chosen,
One,
Because they are the ingredients I love,
And two…
Because I can control the quality of what goes into my breakfast too.
Granola might not be the sexiest food in the world,
But for me,
This morning,
Home made granola,
Combined with tangy and thick Greek yoghurt,
And fresh seasonal berries,
Was about the sexiest thing I'd eaten for breakfast in months.
Ok,
The salmon, crème fresh and potato rosti,
Was pretty hot a couple of weeks back too!
Now where was I.
The kids were eating it and loving it,
I was going for more straight out of our jar….
Thank you very much,
Not a box,
And we were all very happy to give the box a miss,
Today,
And likely for a few more days to come until we need to make another fresh batch for next week.
All that's left to say now is…
Buon appetito!
– – – – – – – – – –
Ingredients
Fresh mixed berries (to serve)
8 cups of rolled oats
1 cup olive oil
1 cup honey
1 tbsp cinnamon
100g flaked almonds
75g sunflower seeds
¼ – ½ cup desiccated coconut
½ tsp salt
Method
Pre-heat your oven to 180°C.
In a large bowl combine the oats, cinnamon, almonds, sunflower seeds, coconut and salt and mix together. Add the oil and stir through to coat all the mixture. Add the honey and keep stirring to combine the ingredients well.
Line 3-4 baking trays with grease proof paper and divide the mixture between them. Cook in the oven until golden brown, around 20-30 minutes. Remove from the oven and allow to cool completely. They will seem a bit soft when you remove them but as they cool they will become nice and crunchy.
Fill up a glass jar (or 2) with the mix. When it's ready to eat, serve with yogurt and lots of fresh mixed berries.