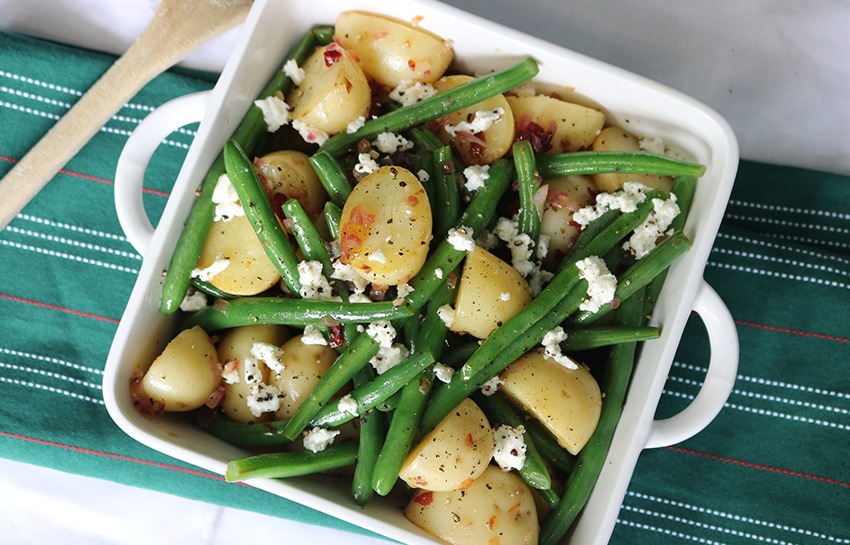 Green Beans With Chat Potatoes and Goats Cheese
How many times in your life have you eaten…
Roast, potato and beans?
If you're like me, it's somewhere in the hundreds.
It just seems a little boring that way…
So this week,
we decided to serve the beans and potatoes together.
Why do this taste better together than on their own?
Or do they?
Enough on that!!
What's made our bean and potatoes so delicious is…
A little pan frying for flavor and…
I actually thought the Meredith's goats' cheese was going to be the star but…
For me…
It was the cranberries that stole the show!
Red, white and green keeps the theme very Italian and…
With summer weather in Melbourne being very salad friendly,
It's a great way to fill up without heating up this Jan.
Buon appetite
– – – – – – – – – –
Ingredients
400g green beans topped & tailed
500g chat potatoes cut in halves
½ large red onion diced
2 tbsp cranberries chopped
2 garlic cloves chopped finely
50g goats cheese
Sea salt
Cracked pepper
¼ cup olive oil, plus a little extra for sautéing
2 tbsp white wine vinegar
Method
In a pot, boil the chats in salted water for around 25 minutes or until you can easily pierce them with a fork. Remove the chats from the water with a slotted spoon and set aside. The water from the chats will now be used to blanch the green beans.
Add the green beans to the boiling water and blanch for 2 minutes. Strain the beans and set aside.
For the dressing, in a small bowl add the olive oil, vinegar and salt & pepper and whisk together, then set aside.
In a large frying pan heat some oil and sauté the onion until it is translucent. Add the garlic for 1 minute.
Add the chats and fry for 5 minutes. Add the green beans and fry for around 3 minutes.
Remove from the heat and add to a large bowl. Mix through the cranberries. Pour over your dressing and mix together until all the ingredients are nicely coated.
Transfer to a serving dish then crumble the goats cheese over the top. Season with some salt & pepper then serve.