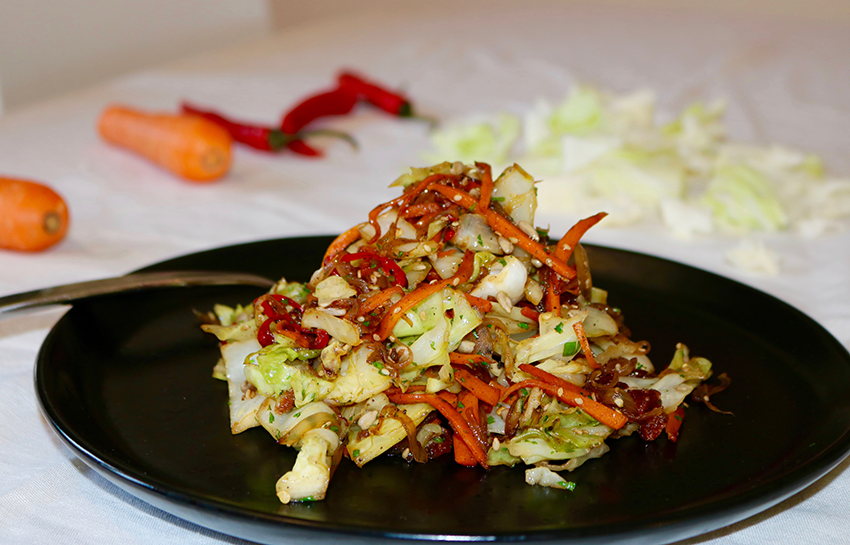 Warm Cabbage & Carrot Salad
We've all heard of stir-frying…
And we all know about pan-frying…
And if you were around in the 80s, you'd definitely know about deep-frying, but…
Have you ever heard of dry-frying?
What about dry-frying vegetables?
This week's recipe is a warmed cabbage & carrot salad that sees our heroes dry-fried rather than being cooked in other more traditional ways.
It is a really simple cooking technique, but…
It does take a little more work and patience because you need to cook in small batches to end up with the right final product.
So what are you looking for when you dry fry?
You wanna end up with veggies that are a little charred…
Their natural sweetness & flavour bursting out, and…
When you eat the food, you want it tasting more cooked than raw!
My biggest tip is batching…
I did onions & chilli first, then carrots, then the cabbage!
Then I added back the onions, chilli & carrot so it could all be served warm.
Never overcrowd your pan or wok!
You will end up with stewed or steamed rather than aromatic and charred.
Be patient!
Resist the temptation to add water or oil during cooking.
If you feel that your veggies are going to burn and char before being cooked, turn down the heat a little.
I also added a tiny pinch of sugar to each round of veggies just to get the charring process started and…
Season with a little excellent quality salt, like Murray Valley, at each stage.
I've added chopped sultanas for sweetness that you could easily substitute cranberries for.
And we did try a honey/mustard dressing too, but in the end we preferred the olive oil vinaigrette, which you will find in the recipe below.
Let us know how your version turned out and what your personal twist is to this week's Foodie Friday's recipe of the week.
Buon appetito
Serves 2
Ingredients
1/8 cabbage chopped coarsely
2 carrots, peeled, cut into quarters, cored & cut into batons
1 medium onion sliced
1 long red chilli sliced
½ cup parsley finely chopped
1 tsp sultanas chopped
1 tsp sesame seeds
1 tbsp sunflower seeds
1 tbsp olive oil
1 tbsp apple cider vinegar
Sea Salt, Cracked Pepper
Method
Heat a large wok and dry fry the onion with a tiny pinch of brown sugar for about 1 minute. Add the chilli and keep frying until just before the onion starts to brown. Remove from wok and set aside.
Add the carrot to the wok with a tiny pinch of brown sugar. Cook until it starts to brown. Add the onion & chilli back into the mix, sesame seeds and a pinch of salt. Stir through to combine making sure you don't burn the onion & the sesame seeds. Remove from the wok and set aside.
Add the cabbage to the wok with a pinch of sugar and cook until it has browned/charred. Add the rest of the mixture back to the wok & stir through only for as long as it takes to combine evenly.
Move the mixture into a large stainless bowl. Add the finely chopped parsley & sunflower seeds. Dress with the olive oil and apple cider vinegar and season to taste with salt & pepper. Toss to combine well then serve.