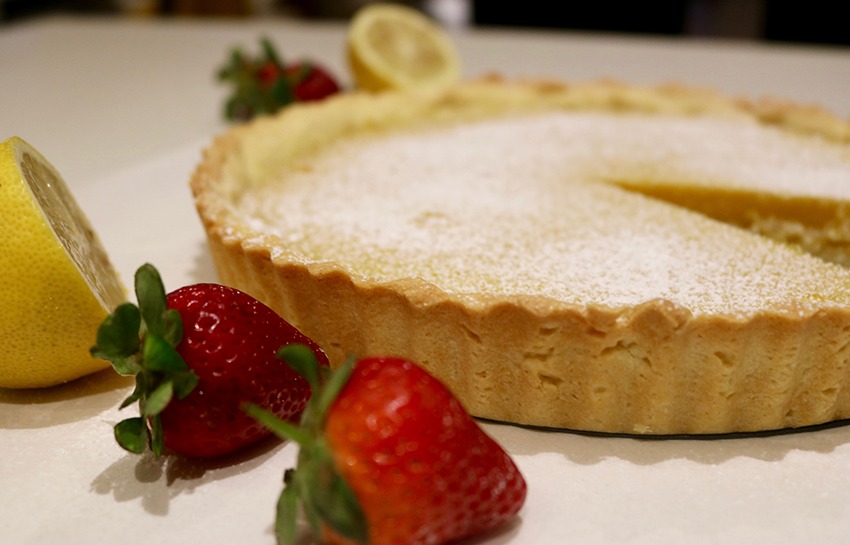 Tangy Lemon Tart
Do you know anyone that eats lemons "as is"?
You know…
Just bites into them fresh,
No sugar…
As if they were an orange or an apple?
Well that's not me!
But…
The extra tang in this week's recipe of the week,
Tangy lemon tart,
Was just what this desert needed to lift it from ok, to extraordinary.
Light, refreshing and tangy filling,
Juxtaposed against short, crumbly and buttery crust,
Is a good match!
But when you sprinkle icing sugar,
And add juicy, aromatic, and sweet fresh strawberries to the mix,
You get a real match made in heaven.
I tried the tart straight out of the oven,
And thought it was great.
But as it was late,
I ran out of time to do this write up last night.
So before I wrote about it today,
I tried another "small" piece…
Out of the fridge this time,
And I must say…
For me,
The cold Day 2 version trumps the out of the oven version!
Fresh mint leaves would definitely be appropriate for serving,
As would some cream.
If you preferred,
You could go for blueberries or raspberries,
But given how tasty and cheap strawberries were this week,
I opted for them!
Before I go,
Be warned that kids like this desert too,
So be sure to make up some excuse why they can't have seconds in advance.
That's all for this week's recipe of the week,
Buon appetito!
– – – – – – – – – –
Ingredients for the Pastry
125g butter
1 ½ cups plain flour
½ cup icing sugar & extra for garnish
1 egg whisked
Pinch of salt
Ingredients for the Filling
½ cup fresh lemon juice
2 tsp lemon rind
3 eggs whisked
1 cup caster sugar
3 tbsp plain flour
1 tbsp milk
Method
In a mixing bowl add the flour, salt, icing sugar and butter. Using your hands, combine the ingredients until they look like breadcrumbs. Add the egg and mix together until it forms into dough. Roll the dough into a ball, cover with cling wrap and refrigerate for 30 minutes.
Pre-heat the oven to 180°C.
Grease a 23cm pie tin. Take the pastry out of the fridge and roll out into a circle on some baking paper. The pastry will be soft so rolling onto baking paper will make it easier to transfer to the baking tin. Transfer the pastry to the pie tin covering the base and the sides evenly. Put it in the fridge while you prepare the filling.
In a mixing bowl add the sugar, flour, lemon rind, lemon juice, milk, and eggs and beat together with a mixer until smooth. Remove the pastry from the fridge and pour the lemon mixture into the pastry. Put in the oven and bake for 30-35 minutes. Serve sprinkled with icing sugar and with fresh strawberries.