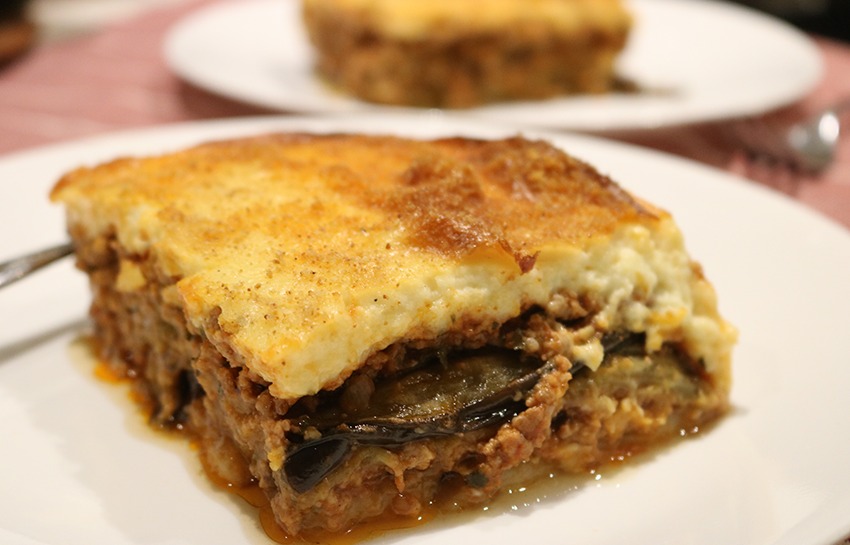 Moussaka
For years I considered Moussaka a winter dish.
Not sure exactly why,
But if I had to guess,
I'd say because it's kinda like upmarket shephard's pie!
Greek style shepherd's pie with a French twist!
And as shepherds pie reminds me of the winter…
Moussaka did too!
For those that not familiar with this Greek favourite…
It's basically layers of fried eggplant…
Fried potato and…
Greek style Bolognese…
Topped with Béchamel!
Don't you think that béchamel is just so much sexier than plain potato mash?
And with nutmeg and cinnamon spicing up this Greek speciality…
I'd take a piece of this over the pie any day!
But why is it more a summer dish than a winter one?
Green thumbs will know that eggplant is a summer/autumn crop.
And right now, in the heart of Autumn,
Eggplant is just amazing here in Australia.
Sure we can get eggplant all year round but…
This is the time that it's at its best.
Now next time you travel to Greece,
And you sit down for a meal in the middle of the summer heat,
Moussaka is bound to appear on most menus of traditional tavernas.
Be sure to order it then…
And in the meantime,
If you're like me…
And you want something a little fancier than pie…
But can't wait until you get to Greece,
Be sure to cook yourself some Moussaka at home.
For the first timers that are wondering…
It's easier than you think,
Just allow yourself plenty of prep time…
And pour yourself a glass of red to really get you into the Greek island mood!
Buon appetito
Or as they say in Greece
Kali Oreksi!
– – – – – – – – – –
Ingredients
3 large eggplant cut into 1cm slices
3 medium potatoes cut into slices
400g mince beef
400g mince pork
1 large red onion diced
2 large garlic cloves diced
½ cup parsley chopped
500g tomato passata
1 bay leaf
1 cinnamon stick
½ tsp oregano
1/8 cup breadcrumbs
150g butter
1 cup plain flour
1 litre milk
¼ tsp nutmeg
Sea salt
Cracked pepper
Olive oil
Method
In a pot heat 4 tbsp olive oil. Add the onion and sauté until translucent. Add the garlic for 1 minute or until you can smell it. Add the parsley for one minute stirring constantly.
Add the pork and beef mince and cook to brown. With your spoon break up all the mince so it's nice and fine. If your mix is too dry you can add a little extra olive oil.
Once mince has almost browned, add the oregano, cinnamon stick, bay leaf & season with salt and pepper to taste. Cook for a few minutes or until mince has browned.
Add the passata and 1 cup of water and bring to the boil. Reduce the heat to a simmer and cook for 30 minutes uncovered stirring occasionally. If the mix is too dry you can add a little water. Set aside.
Cover the base of a frying pan with olive oil and heat. Cook the eggplant on a medium heat until soft and brown then put on paper towel to absorb the excess oil. You will need to add extra olive oil as you go but try not to add too much because the eggplant will keep absorbing it and you'll end up with really oily eggplant. Season lightly with some salt and set the eggplant aside.
In the same pan and with the same amount of oil, cook the potato slices until they are browned. Place them on paper towel to absorb any excess oil and season lightly with salt before setting aside.
Pre-heat oven to 180°C.
Heat the milk to warm then set aside.
Melt the butter in a pot on a medium to high heat. Add the flour and stir constantly for a few minutes or until it has formed a paste. Gradually add the milk, constantly stirring the mixture until you have poured in all the milk.
Keep stirring until the béchamel is nice and smooth in texture. Add the nutmeg and season with salt and pepper giving a good stir so it is combined well. Set aside.
It is now time to assemble the moussaka. In an oven dish, around 28cmx34cm, lay the potato slices to cover the base of the dish.
Use half the eggplant slices next on top to cover the potatoes. The next layer will be half the mince mix (make sure you remove the cinnamon stick & bay leaf).
Do another layer next with the remaining eggplant, than another layer with the remainder of the mince mix. Using a spoon, press the mince down evenly over the top.
Pour the béchamel mix over the top and smooth with a spatula evenly. Sprinkle the bread crumbs over the top and cook in the oven for 45 minutes.
Serve with a fresh leafy salad & some feta cheese.