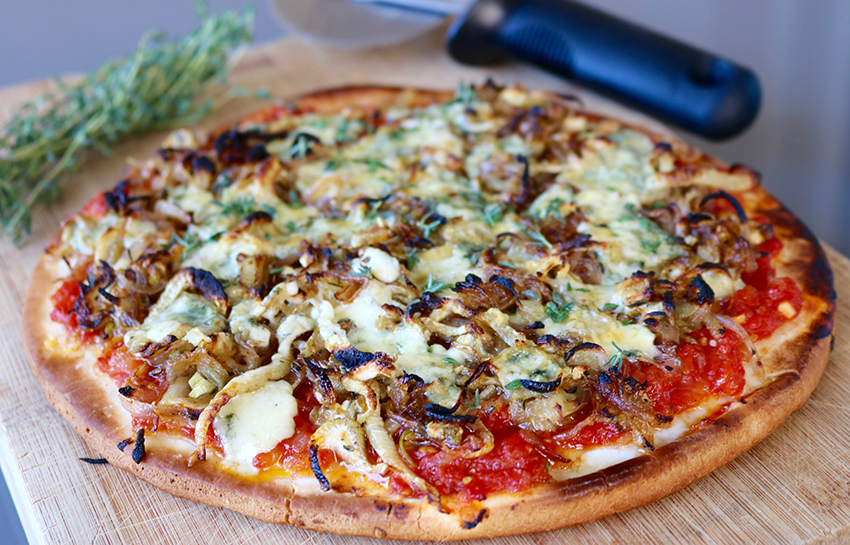 Caramelized Fennel & Onion Pizza
Did you know that Gorgonzola is a type of blue cheese, so…
All Gorgonzola are blues but not all blues are Gorgonzola!
And…
If you think that's clever…
Did you know that fennel is actually part of the carrot family and not the onion family?
Lots of learning for me with this week's recipe of the week – Express Caramelized Fennel, Onion & Gorgonzola Pizza!
We have added the word "express" because we wanted something tasty and quick this week, so…
You can use a good tomato passata (like Salsa De Nona) and good quality store bought pizza bases (like Smokehouse).
Of course, you could also do it all on your own and for those that are keen, we have included a recipe for DIY Italian style pizza sauce!
Now, we weren't 100% sure with the choice of cheese, but we figured given that the caramelized fennel & onion were sweet, something salty to balance would work.
The salty creaminess of the Gorgonzola worked perfectly to balance the sweetness, and…
I'm sure you could just as easily go for a Persian feta or some other type of creamy feta if you're not a blue cheese fan.
And if you weren't so keen on a salty cheese, a buffalo mozzarella would be fine too!
Confession time.
One thing that could have improved this pizza was some freshness.
Some rocket on top would have been a very appropriate choice or even a rocket salad served on the side.
The green would have made this a complete meal.
And if you like wine, a glass of Sangiovese or Nebbiolo and Roberto's your uncle!
Buon appetito!!
– – – – – – – – – –
Makes 2 Pizza's
Ingredients
2 Smokehouse (or any other good quality) pizza bases
6 tbsp Salsa De Nona (or any other good quality) Italian style tomato passata or use our home-made passata recipe provided below
500g fennel sliced thinly
4 medium onions sliced thinly
2 tsp fresh thyme chopped & a little extra for garnish
4 tbsp olive oil & a little extra for drizzling the pizza's
1 tsp of sugar
Sea salt & cracked pepper
100g gorgonzola cheese
Method
Pre-heat your oven to 220°C.
In a large frying pan or wok, heat the oil & begin to sauté the fennel and the onion. When they start to soften (around 2-3 minutes) add the salt, pepper & sugar and cook for a further 10 minutes. Add the thyme and keep cooking for another 5- 8 minutes or until they have caramelized.
Put your pizza bases on a pizza tray and spoon some passata on, covering the pizza base evenly. Add the fennel/onion mix evenly over the pizza. Crumble the cheese over the top & then drizzle with some olive oil.
Cook them in the oven for about 8 minutes, or until they have browned nicely. Remove from the oven, cut into pieces & garnish with some fresh thyme before serving.
Italian Style Tomato Passata (if you want to make it yourself)
Ingredients
500g ripe tomatoes grated, skins discarded
1 small red onion finely chopped
1 clove of garlic finely chopped
2 tbsp olive oil
Pinch of cinnamon
1 bay leaf
Sea salt & cracked pepper
Pinch of sugar
Method
Heat 2 tablespoons of oil in a medium pot and sauté the onion until translucent. Add the garlic and when you can smell the garlic add in the grated tomato.
Add bay leaf, cinnamon, sugar & salt and pepper. Bring to the boil then reduce to a simmer and cook for around 45 minutes or until sauce has developed.