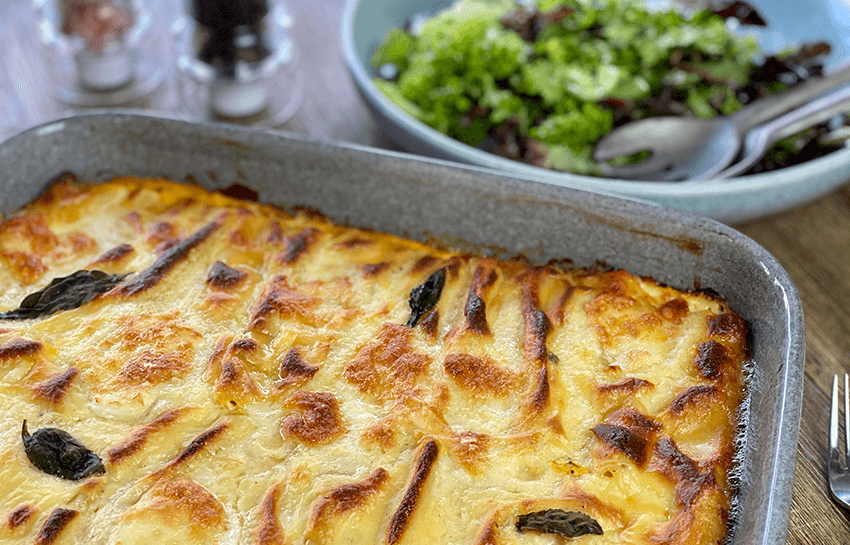 Pumpkin & Ricotta Cannelloni
This is the ultimate cheese-lovers pasta recipe!
Not only is it loaded with ricotta, it has Parmesan and mozzarella cheese!
– – – – – – – – – –
Ingredients
1.2 kg pumpkin
10 sage leaves
6 cloves garlic, cracked with flat of a knife
Olive oil
Salt & pepper
400g fresh ricotta
A big handful basil leaves, sliced
100g Parmesan, finely grated
1 tsp pepper
1 egg yolk
40g butter
40g flour
100g sharp cheddar cheese, grated
1 pack cannelloni tubes
1 ball fresh mozzarella
6 basil leaves
Method
Preheat oven to 180°C
Peel and cut the pumpkin into roughly 10cm chunks and place it on an oven tray with sage and garlic. Season with salt and pepper, drizzle over enough olive oil to coat the pumpkin, and bake for about 35 to 40 mins or until soft in the centre.
Mash the pumpkin and allow to cool enough so that you can handle it without burning yourself
Place butter and flour in a saucepan over low heat and cook for about 3 mins, stirring constantly. Slowly start adding the milk, whisking as you go, until you get a thick, but pourable, consistency.
Remove from heat, add cheese, salt and pepper, and stir until the cheese is melted.
Combine ricotta, grated Parmesan, basil, egg yolk, pepper and pumpkin in a large bowl, and get ready to fill your cannelloni.
Find a baking dish big enough to hold the pasta tubes.
Place pumpkin and ricotta mixture into a piping bag, and then hold a cannelloni tube up with its bottom standing in the baking dish and fill the tube. Lay it down and repeat until all of the pumpkin filling is gone.
Pour the cheese sauce over the tubes, tear over the mozzarella, add a few more basil leaves, and then bake at 180°C for 40 mins or until pasta is tender.