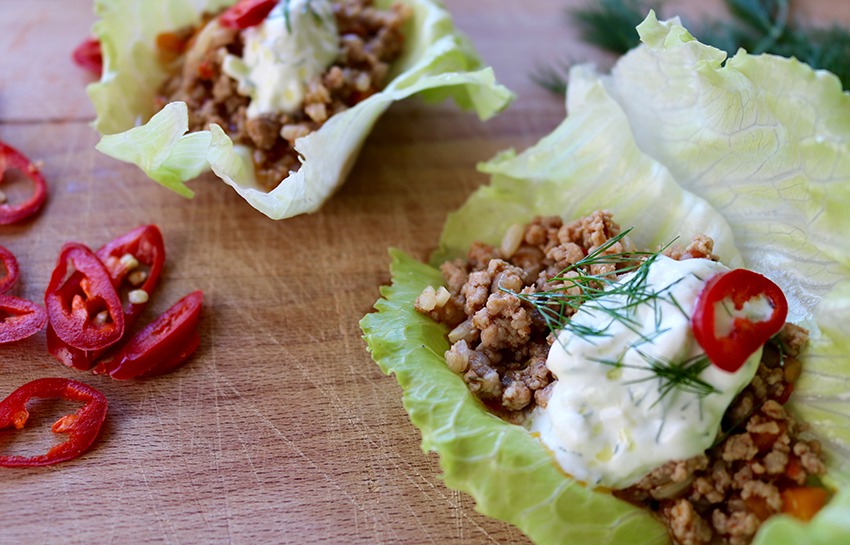 Greek-Style Pork Lettuce Delight
Fusion is my friend!
And if he's not your friend yet…
This dish may just help you make the switch.
Quail San Choy Bao…
Circa 1995…
At the Flower Drum Chinese restaurant in Melbourne's Market Lane…
Was the first time I tasted this Asian delight!
The quail & Chinese sausage filling was sweet, textural & bursting with flavour…
A perfect contrast against the fresh, crisp iceberg lettuce.
Fast forward to 2009…
And a short walk across to the corner of Flinder's & Oliver's Lane…
I experienced a tremendous take on the old classic below ground…
In an industrial, cool & atmospheric setting at Coda restaurant.
More delicate and refined than the original version…
I'd now experienced a French Vietnamese lettuce delight that made love to my taste buds!
So today I thought…
Why not put a Mediterranean take on this old-time classic?
And get the taste buds dancing and singing Greek style!
Our filling is minced pork, brown rice & thyme…
With chili powder, Spanish onion & garlic adding the necessary flavour base.
Away with the more traditional bean shoots & coriander…
And instead, enter a simple, yet zinging with flavour tzatzki!
Garnished with fresh dill & chili for that something different & that extra punch of heat!
Of course our star, our hero….
New season Victorian Iceberg lettuce to complete this little bundle of joy…
Or should I say delight?
Greek-style Pork Lettuce Delight!
Buon appetito…
Or as they say in Greek…
Kali Oreksi!
– – – – – – – – – –
Makes 14-16
Ingredients
For the Minced Pork
1 iceberg leaves separated & washed
500g minced pork
1 carrot diced into small pieces
1 medium red onion diced
1 long red chilli sliced diagonally
2 garlic cloves chopped finely
1 medium tomato diced
½ cup cooked brown rice
½ – 1 tsp chilli flakes (optional)
½ tsp thyme
½ tsp paprika
4 tbsp olive oil
¾ cup chicken stock
Sea salt & cracked pepper to taste
For the Tzatziki
1 cup Greek style yogurt
1 tbsp olive oil
2 garlic cloves chopped finely
1 small lebanese cucumber shredded
2 tbsp dill chopped
Juice of ½ lemon
Pinch of salt
Method
For the Tzatziki
In a bowl add all the ingredients & stir to combine well. Refrigerate until ready to use.
For the Minced Pork
Heat oil in a medium to large pan.
Add the onion and sauté until translucent.
Add the carrot and cook stirring for around 1 minute then add the garlic.
Once you can smell the garlic, add the mince and cook until browned.
Add the tomato, thyme, paprika, salt, pepper, chilli flakes and the chicken stock and bring to the boil.
Once it has come to the boil, reduce to a simmer and cook for 20 minutes or until the stock has reduced a bit. Make sure you don't reduce so much that it is dry. There should still be some liquid so the mixture is moist.
Add the cooked rice and stir through, then remove from the heat and set aside.
Fill the lettuce cups with the mince mixture and top with a spoonful of tzatziki and garnish with dill & fresh chilli.