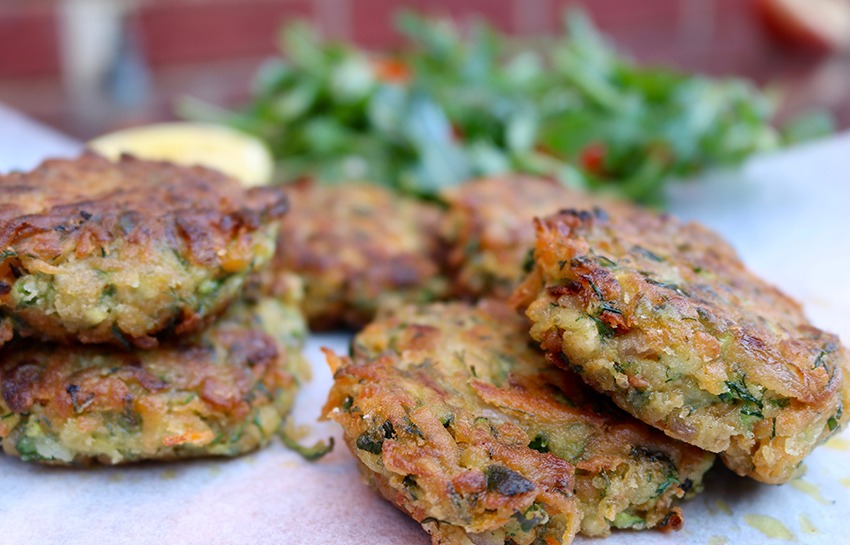 Zucchini & White Bean Rösti
Imagine waking up…
To the sound of cow bells ringing…
Roosters' crowing…
And dog's barking,
In anticipation of the new day!
The sunlight breaks,
Through your wooden bedroom window shutters,
Catching your eye…
And waking you that little more.
But it's that smell…
The smell of potato frying,
In luscious butter and oil…
That gets your mouth salivating,
For your favourite breakfast of all,
A potato & herbed rösti!
This was the staple breakfast,
For many a cow farmer,
In the idyllic,
And UNESCA World Heritage listed…
Swiss town of Bern!
The traditional version was made from plain grated potato,
Sometimes cooked,
And often raw.
Bacon, egg and herbs started appearing in the rösti,
With farmer's wives putting their own twist,
Onto the local classic…
And variations have adorned eateries,
Taverns, cafes and restaurants,
From country towns across Switzerland,
Germany & France…
All the way to sunny Australia…
Including some of the best breakfast haunts,
Melbourne has to offer.
Our take outs aside the potato,
Replacing it with white bean for the starch,
Protein and fibre.
Whilst zucchini becomes the hero of the show…
In peak season and locally grown in Victoria!
Lots of dill, parsley, sweet potato and onion for flavour…
And we have our very own Melbourne take…
On an old Swiss farmers favourite…
We call it Zucchini and White Bean Rösti…
And all that's left to say is..
Buon appetito!
– – – – – – – – – –
Ingredients
2 zucchinis grated (approx. 250g)
1 medium sweet potato grated (approx. 350g)
½ cup chopped dill
½ cup chopped parsley
1 red onion diced
1 garlic clove chopped finely
400g cannellini beans
Juice of ½ lemon
2 tbsp plain flour (extra for dusting)
2 tbsp olive oil (extra for frying)
Sea salt
Cracked pepper
Method
In a small pan, heat some olive oil and sauté the onion until it is translucent. Add the garlic for one minute, or until you can smell it, then remove from the heat and set aside.
In another bowl, add the beans, lemon juice and olive oil and mash until the beans become mashed. Season with salt and pepper. Set aside.
Squeeze out the liquid from the zucchini and the sweet potato and put them into a large bowl. Add the dill, parsley, flour, onion, garlic and cannellini beans and using your hands, mix until well combined. Season with salt and pepper and mix through.
Heat some olive oil in a large frying pan on a medium heat.
Scoop out about a tablespoon of the zucchini mixture, dust in some flour, and fry in the pan, turning to cook both sides, until they are golden brown.
Serve with a rocket and cherry tomato salad!