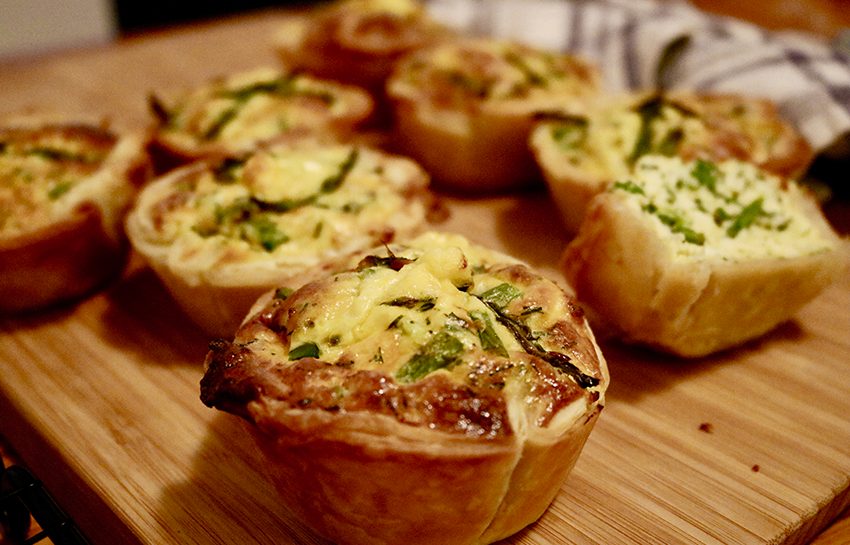 Asparagus & Dill Mini Frittatas
This week,
I've been struggling to come to terms,
With the contestants on Channel 7s new cooking competition,
Plate of Origin…
Who cooked with Puff Pastry,
In the pie making challenge this week.
More on that soon.
In case you don't know the format of the show…
Teams of two,
Represent their country of heritage,
And cook off against each other each week,
Until one country reigns supreme.
China,
Australia,
France,
Greece,
Italy,
And Vietnam are just a few of the countries represented!
And there's the usual mixture of teams,
Loveable…
Annoying…
Sexy…
Funny…
Charming..
Mum & Daughter
Arrogant.
I'll leave it to you to tell me who's who!
I love the Vietnamese boys,
Great cooks,
Funny…
And likeable.
They even shed some tears,
In a display of manly emotion,
When the judges gave them the prize of best pie,
For their Vietnamese inspired Beef Pho meat pie.
A homeage to their country of origin,
And their take on Australia's favourite fast food!
So back to the Puff Pastry.
Shouldn't they be making the pastry from scratch…
Given it's a cooking show?
That's me neither loveable, sexy or charming…
But a true sign of my hypocracy because I do the same in my kitchen.
This week,
I've taken Joe's pick of the week,
Victorian grown asparagus,
And a little inspiration from my show of the month,
Putting my spin on frittata,
Using puff for the case,
And ricotta, fetta, dill and spring onion for the fill.
They are beyond easy…
Very tasty…
Guaranteed not to win any cooking shows,
But were a hit at home with the judges this week!
All that's left to say now is,
Buon appetito!
– – – – – – – – – –
Ingredients
1 bunch asparagus, ends removed & chopped
¼ cup chopped dill
2 spring onion sticks sliced finely
6 eggs beaten
¾ cup ricotta cheese
1 cup graviera (or grueyere) cheese grated
2 tbsp butter melted, slightly cooled
2 puff pastry sheets
Sea salt & cracked pepper
Method
Pre-heat oven to 200°C.
Grease a large 8 muffin, muffin tray.
Cut out 4 circles per puff pastry sheet and line the individual 8 muffin cups in the muffin tray then set aside.
In a bowl combine the ricotta and graviera cheese and butter and mix together. Add the beaten eggs and stir with a fork to combine.
Add the asparagus (save a few tips aside for the tops), dill, spring onion, salt and pepper and stir to combine well.
Spoon equal amounts between the 8 muffin cups and then top with the extra asparagus.
Cook in the oven for 30 minutes.