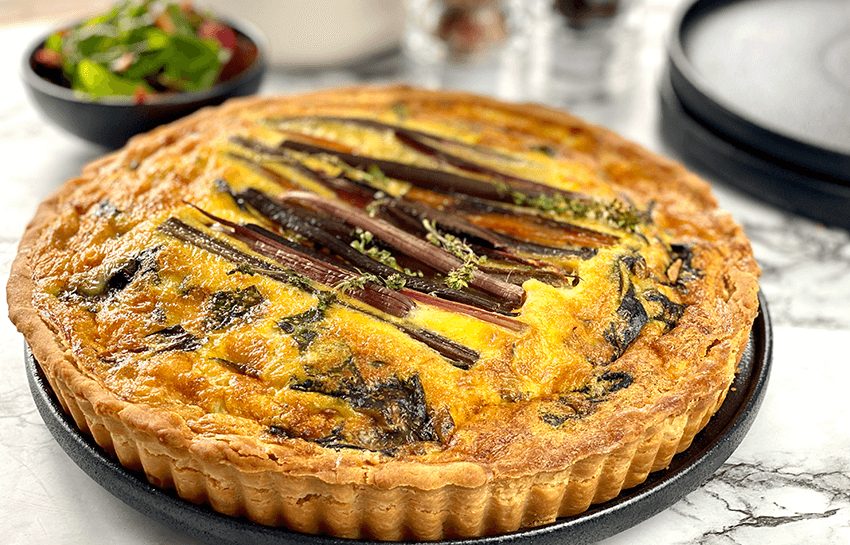 Rainbow Chard Peppered Tart
This tart is luscious, rich and comforting.
You can swap out the French cheese for ricotta and Parmesan. Even halloumi will be tasty!
We've gone all out with cracked pepper to give it a little bite.
It really makes a difference defrosting this pastry in the fridge, as recommended by Caremé.
– – – – – – – – – –
Makes 1 28 cm tart
Ingredients
1 sheet of Caremé shortcrust pastry, defrosted
2 tbsp olive oil
1 onion, diced
½ bunch rainbow chard
8 large eggs
1/3 cup cream
3 tbsp milk
225g good French cheese – we've used Fromager d'Affinosis Le Fromager
Olive oil
Big pinch salt
1 tbsp cracked pepper
Fresh thyme stalks
Method
Preheat oven to 180°C.
To prepare the chard, wash thoroughly and cut the stalks off at the base of the leaves. Slice the stalks in half and roughly chop the leaves.
Carefully place defrosted shortcrust pastry in a 28 cm loose-bottom quiche dish. Gently push the pastry into the base and the flutes. Leave a little pastry overhang to allow for shrinking.
Peirce the base about 10 times with a fork and place it in the freezer for 10 to 15 mins.
Place baking paper and baking beads in the tart base and bake for 10 to 15 mins or until golden. Remove the beads and paper.
Heat a frypan over medium-low heat, add olive oil and chard stalks to make the filling. Cover and cook for 5 mins. Remove from pan and set aside.
Add diced onion to the pan, more olive oil, and a good pinch of salt. Sautee until soft. Add the chard leaves, and toss and cover with the lid for 3 minutes.
Place eggs, cream, milk, and salt and pepper in a bowl and whisk to combine.
Remove the cheese's rind and discard. Tear the cheese up and add to the egg mix. Stir to combine.
Add the onion and chard leaves and combine. Pour mixture into the tart shell.
Place the chard lengths on the top of the egg mix and add a few stalks of thyme.
Bake for 45 mins or until the eggs are just set.
Allow the tart to sit for 5 mins before removing it from the tin and slicing.