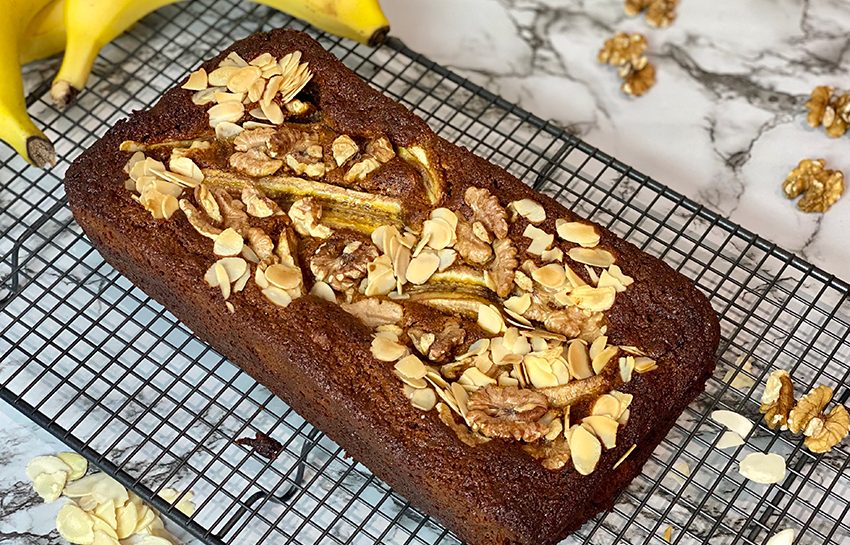 Banana, Almond and Walnut Bread
This banana bread is a healthier version of an old classic.
The addition of nuts gives a great crunch and texture, and the almond meal gives the bread almost a crumbly texture.
It's a great breakfast, lunch or afternoon pick-me-up.
– – – – – – – – – –
Ingredients
1 ½ c almond flour
1 c coconut sugar
1 tsp bicarbonate soda
1 tsp baking powder
2 tsp cinnamon
1 cup mashed banana
1 large egg
1/2 c Greek yoghurt
¼ c vegetable or grapeseed oil
1/4 c honey
2 tbsp vanilla extract
½ c flaked almonds
¼ c flaked almonds, extra
2 bananas, halved lengthways
1/3 c walnut kernels
2 tbsp maple syrup
Method
Preheat oven to 160°C.
Line a loaf tin with baking paper. Make sure it's hanging over the edges to help remove the bread from the tin.
Place flour, sugar, bicarb, baking powder, cinnamon, banana, egg, yoghurt, oil, honey, vanilla and ½ c flaked almonds in a bowl and mix to combine.
Pour batter into the tin, lay over the four banana halves and scatter over the nuts.
Gently brush banana and nuts with maple syrup and bake for about 70 mins, or until a skewer comes out clean.
Cool in the tin for 5 mins, use the side of the baking paper to remove bread from the tin and cool on a wire rack.