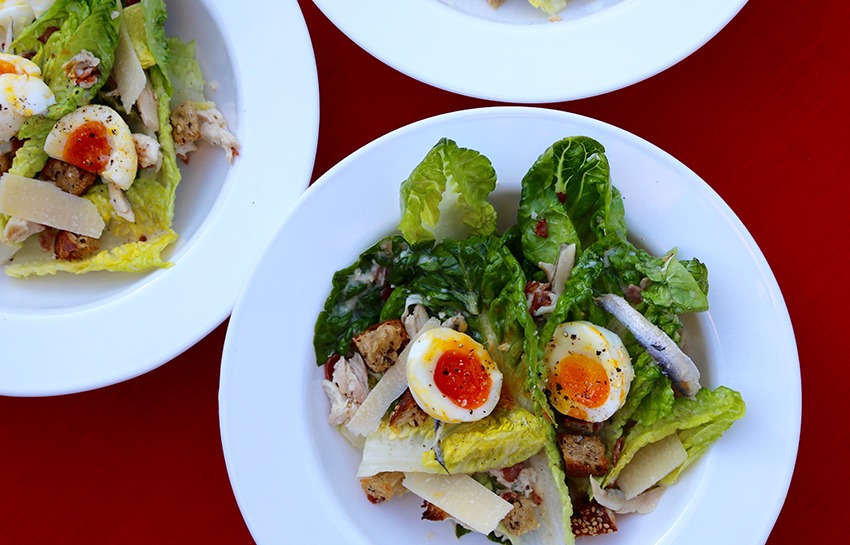 Caesar Salad
Forever and a day…
I assumed that the Caesar Salad took its name,
From the Roman Emperor, Caesar.
It makes sense right?
Well…
It appears that I was wrong.
The salad not only doesn't take its name from a Roman Emperor…
It allegedly wasn't even created in Italy!
So where you might be asking?
Legend has it,
That around 10,000km from Rome, Italy…
In sunny Tijuana Mexico…
American Italian restaurateur, Caesar Cardini,
Invented the salad in the mid 1920s!
Go figure right!
Along with supplying frustrated Americans with alcohol…
It was the time of prohibition…
He also served them up,
What is arguably Americas' greatest contribution…
To the culinary world!
The original version featured the eclectic combination of Romaine lettuce, Parmesan, boiled egg, croutons, olive oil & Worceshtershire sauce!
The anchovies were an addition made by his brother, Alex…
A couple of years after Caesar put together the original!
They must have been wild times back then, in the roaring 20's in Tihuna.
Sun, beach, Margheritas and…
Caesar Salad!
Our version features local Somerville Cos lettuce,
Premium White Italian Anchovies…
Semi-hard boiled free-range eggs,
Delicious home made croutons…
And shards of parmesan, for bite & sharpness.
We've thrown in some shredded roast chicken..
To make sure it feeds a dinner party of four!
Simple, tasty & delicious….
And super quick for those hot summer days,
When you don't want to spend too much time in the kitchen!
The only thing left to say is…
Buon appetito
– – – – – – – – – –
Serves 4
Ingredients for the Salad
2 baby cos lettuce
2 cups shredded chicken
3 bacon rashes diced
2 cups croutons
4 eggs soft boiled
8 anchovy fillets
Shredded parmesan for garnish
Ingredients for the Dressing
1 large garlic clove crushed
3 anchovy fillets crushed
Juice of half a lemon
1 tsp dijon mustard
1 tsp worcestershire sauce
1 cup mayonnaise
½ cup parmesan grated
¼ cup olive oil
Sea salt
Cracked pepper
Method for the Dressing
In a bowl whisk together the garlic, anchovies, mustard, Worcestershire sauce, lemon and the parmesan.
Add the mayonnaise and oil, whisk until well combined and a nice consistency. Season with salt & pepper to taste. Set aside.
Method for the Salad
In a pan, fry the bacon until crispy then set aside.
In a large bowl, add the cos, chicken, bacon and croutons and toss to evenly mix.
Add half the dressing and lightly toss to coat all the lettuce leaves. You can add more dressing depending on your taste.
Divide into 4 bowls. Add one egg cut in two into each serve. Add 2 anchovy fillets per serve.
Garnish with shredded parmesan and serve. Put the remaining dressing in a bowl for whoever might like extra on their salad.