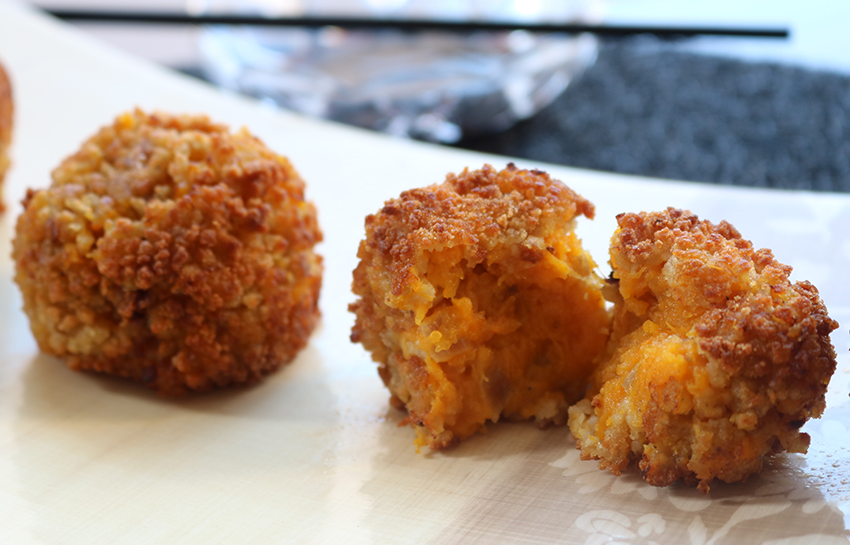 Japanese Pumpkin Croquettes
If you want to make the panko breadcrumbs yourself, here is the recipe, otherwise store bought panko crumbs will do.
Panko Breadcrumb Recipe (makes 1½ Cups)
Ingredients
195g white sourdough bread crusts removed
Method
Pre-heat oven to 150°C.
Shred bread in food processor to make coarse crumbs.
Line a baking tray with baking paper. Spread crumbs onto tray and bake in oven for around 6-10 minutes.
Shake the tray during baking keeping an eye on them to make sure that the crumbs don't brown.
Tip: If the crumbs seem a little chunky in size you can re-blitz half way through baking to make them finer.

Japanese Pumpkin Croquettes Recipe
Ingredients
650g peeled, cored & cubed pumpkin
1 red onion finely diced
1 tbsp milk
¼ cup flour
1 egg lightly hand beaten
Olive oil
Sea salt & cracked pepper
Method
Pre-heat oven at 200°C.
Put cubed pumpkin onto a lined baking tray. Drizzle with olive oil and season with sea salt and cracked pepper.
Bake in oven for 25-30 minutes or until soft.
Heat 1 tablespoon of olive oil in a pan and sautee onion until translucent. Remove from heat and let it cool.
In a bowl, add the pumpkin and onion together with 1 tablespoon of milk and mash. If more seasoning is required, add more sea salt & cracked pepper to taste.
Let the mixture cool completely.
Heat olive oil in a medium pan for frying. Using two spoons scoop pumpkin mixture and work it into a ball. The pumpkin is very delicate and soft and needs to be worked with care not to fall apart.
Dust each ball with the flour, dip into the egg and finally cover them in the panko crumbs.
Place balls into frying pan and lightly fry turning very carefully as you go to get an even crispy outer shell.
Remove and drain on paper towels.
Serve with a side of wasabi mayo.