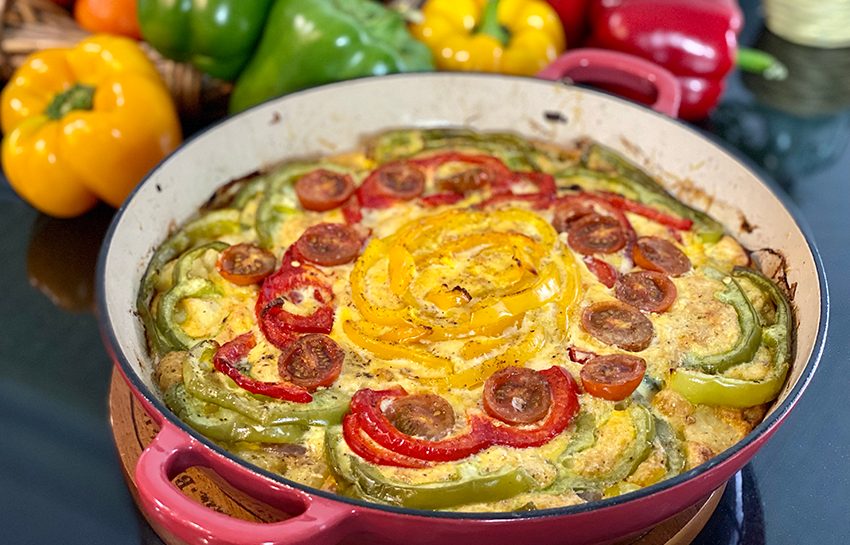 Tri-Coloured Capsicum and Tomato Frittata
This frittata is the perfect picnic food!
Cook it the night before, slice it into squares or triangles and wrap each slice in baking paper tied with kitchen twine. It will look as good as it tastes!
If you follow this recipe, the capsicum keeps its bite. If you prefer the capsicum to be a little softer, sauté them in olive oil before placing them on the egg.
I've used a 31cm pan.
– – – – – – – – – –
Ingredients
5 kiphler potatoes, peeled and sliced into 4 cm pieces
1 onion, peeled and sliced
3 cloves garlic, peeled and roughly chopped
60g Gruyere cheese, grated
1 red capsicum, halved and sliced
1 green capsicum, halved and sliced
1 yellow capsicum, halved and sliced
9 eggs, cracked and whisked
½ tub cherry tomatoes, halved
Fresh basil leaves
Method
Preheat oven to 170°C.
Sauté potatoes in olive oil with a pinch of salt over medium heat for about 6 mins.
Add the onion and garlic and sauté for about 7 mins.
Remove pan from heat, season the whisked eggs with salt and pepper and pour over the potato and onion.
Add the cheese over the top.
Place the capsicums around the outside of the pan, working your way to the middle.
Dot the tomatoes throughout.
Spritz with olive oil, season with salt and pepper and bake for about 20 mins.