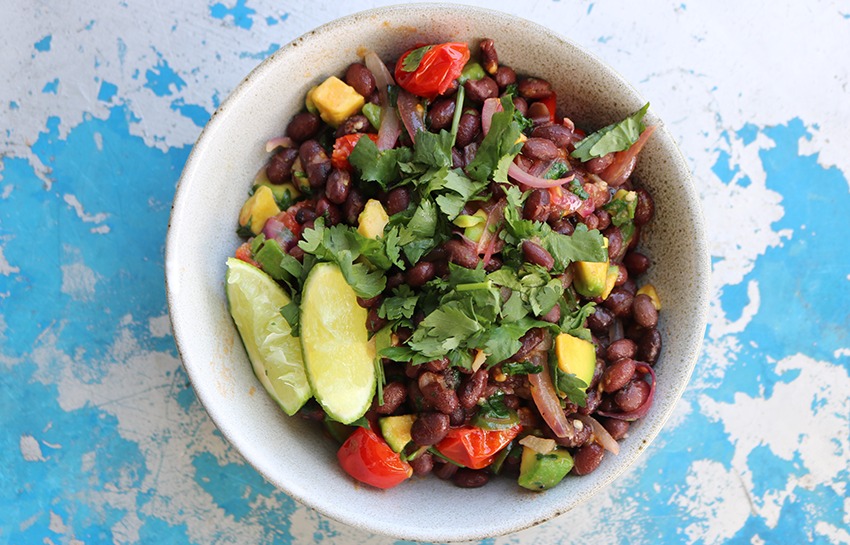 ABC Bowl
ABC…
Other than being the first letter of each of the star ingredients,
Namely avocado, beans & coriander,
Is also a reflection of how simple this meal is to prepare!
Whether it's for lunch or dinner,
This is a super quick & easy meal,
That is filled with goodness and flavour.
If you can't get jalapenos any chili will do.
Just adjust the ratios to suit your (heat) tastes.
And if you can't find shepards,
Hass avocados will do the job too!
I just happen to prefer the shep avo in this recipe…
As they are a little firmer and cube a little nicer than Hass.
How about serving suggestions??
You could serve with corn chips as a starter.
You could spoon into soft,
Or hard shell tacos…
For the ultimate vegan taco experience!
Or,
You could do what I did.
Scoop it into a pretty bowl…
Grab a spoon and
Enjoy as-is!
– – – – – – – – – –
Ingredients
2 Shepard Avocados cut into small pieces
2 400g cans of black beans drained & washed
1 medium red onion sliced thin
1-2 jalapeno chillies sliced
8 cherry tomatoes cut in half
1 cup coriander chopped
1 clove garlic chopped fine
1 lime
Pinch of sugar
Olive Oil
Sea Salt
Cracked Pepper
Method
Squeeze half a lime over the avocado so it doesn't brown and set aside.
Heat some olive oil in a pan. Add the onion and sauté until translucent. Add the garlic, jalapeno's & cherry tomatoes with a pinch of sugar and sauté for another minute. Add the beans for 2 minutes then remove from the heat.
Put cooked mixture in a large bowl, add the avocado and coriander and stir gently to combine. Season with salt & pepper to taste.
Put into serving bowls, squeeze some lime juice over the top and garnish with some coriander, then serve.