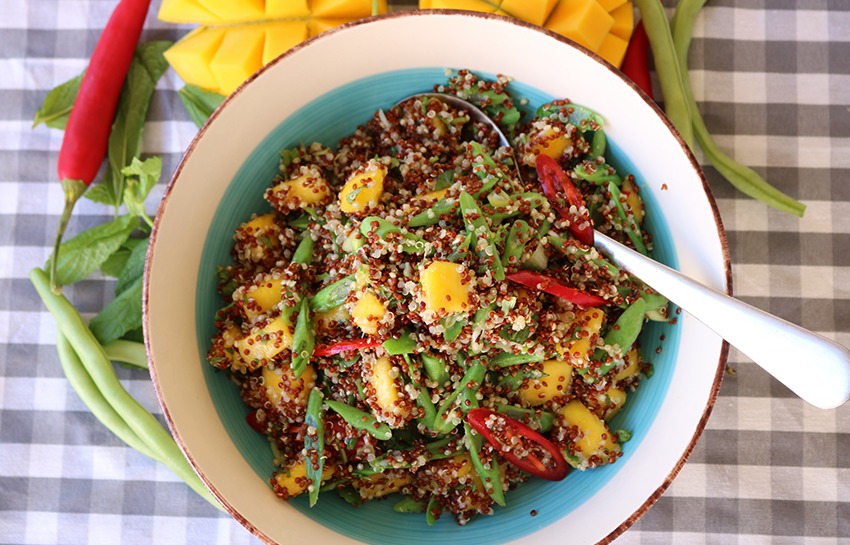 Mango, Green Bean & Quinoa Salad
Sweet & sour can be so right…
And it can also be so wrong!
This dish nails sweet & sour like very few dishes I have tried.
There is so much oomph from the mango, lime & chilli and…
The quinoa & bean dance magically with them to create what we think is almost the perfect salad.
This Melbourne winter has been one of the coldest and that's why…
We loved preparing, making and eating this dish.
It gave us some hope that "YES!", spring is in the air.
There are other signs too!
Footy finals are upon us.
The weather threatens to please, with the thermostat rising into the high teens.
And spring & summer fruits are on their way in, with tropical, sweet & juicy Aussie mangoes being the definite star of this show.
We've used mint as the sole herb, which has added fantastic freshness, but…
If you love coriander, that would be a wonderful and very suitable addition too.
We say go for what suits your taste buds most and what looks freshest & most vibrant when you're shopping for your fruit & veg.
The visual sexiness of this dish is all about your cuts.
Use a really sharp knife, be careful not to cut yourself and get going on diagonals with the chilli, spring onions & the beans and you will have your self a really good looking dish.
And don't overcook the green beans.
We've literally blanched them & then refreshed them in cold water, (iced water would be even better) to ensure they are crunchy and retain all their goodness.
I must admit, we say this dish serves 4, but it was so good that we didn't bother with sides or mains and we powered through the whole lot in one sitting.
If you're big eaters, this may be a dinner for 2-3.
If that's an issue, simply double the recipe because as a left over salad for lunch, this would work a treat.
Happy spring and…
Buon appetito!
– – – – – – – – – –
Serves 3-4
Ingredients
¾ cup red quinoa
¼ cup white quinoa
200g string beans sliced diagonally
1 large mango diced
1 cup mint roughly chopped
2 long red chillies sliced diagonally & thin
2 spring onions sliced
1 lime
2 tbsp olive oil
Pinch of sugar
Sea salt & cracked pepper
Method
Cook the quinoa according to the packet instructions. Add a pinch of salt to the water when cooking. This will balance the slightly bitter taste of the quinoa. Set aside & allow quinoa to cool.
In a small pot heat some water and blanch the green beans. They should still have some crunch so make sure you don't leave them in the hot water too long. Drain the beans and run them under cold water to stop the cooking process. Set aside.
In a small jar, mix the olive oil, juice of 1 lime, sea salt, cracked pepper & a pinch of sugar. Set aside.
In a large bowl add the quinoa, beans, mint, chillies & spring onion. Give a good toss to combine the ingredients.
Add the dressing and the mangos and give another toss to combine the dressing and all the ingredients evenly.
Place the whole mix into a large serving dish or into 4 separate bowls & serve.