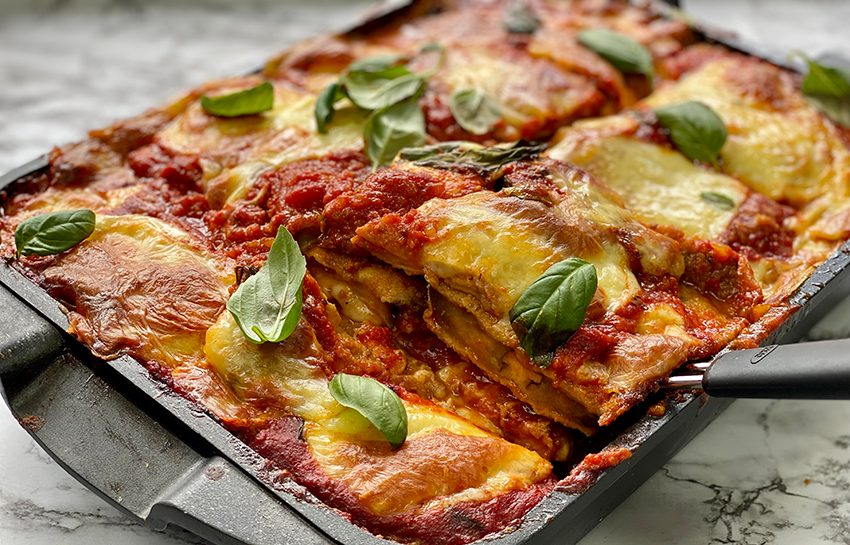 Eggplant Parmigiana
Traditionally, a parma is not a piece of crumbed chicken with sauce and cheese. It's made with eggplant, a tomato-based sauce and lots of cheese.
If you prefer a healthier version, it works just as well without crumbing and frying the eggplant.
Brush the eggplant with olive oil and season with salt and pepper.
Bake in a 180°C for about 15 mins, then start to layer it up.
– – – – – – – – – –
Ingredients
Olive oil
1 onion, diced
½ head garlic, crushed
1 tsp salt
2 tbsp tomato paste
Bunch basil
2 bottles passata
5 eggplants
4 eggs
1 c flour
1 cup fine breadcrumbs
2 x mozzarella balls, sliced
1 c parmesan cheese, grated
Fresh Basil
Method
Place the onion in a sauté pan with olive oil and a big pinch of salt and cook over low heat until it's soft.
Add garlic and cook, stirring, for a minute or two.
Add tomato paste, six basil leaves, and 1 tsp pepper and cook, stirring, until the tomato paste darkens.
Pour in the passata and stir to combine. Simmer for about 40 mins.
Grate in about 2 tbsp Parmesan cheese.
Crack eggs into a bowl, season with salt and pepper and whisk.
Place flour in a bowl, season with salt and pepper.
Place crumbs in a bowl.
Slice eggplant into 2 cm rounds.
Dust with flour, dip into egg and then coat with crumbs.
Heat a frypan over medium heat; add enough olive oil to coat the base of the pan.
Fry off the eggplant until lightly golden, remove from pan and drain on paper towel.
Preheat oven to 180°C.
In a baking dish, spread a light layer of sauce on the bottom, add a layer of eggplant, a layer of mozzarella, a good sprinkle of Parmesan and 6 basil leaves. Repeat until all ingredients are used, but add more sauce between the layers than the base.
Bake for 40 mins or until the cheese is melted and golden.