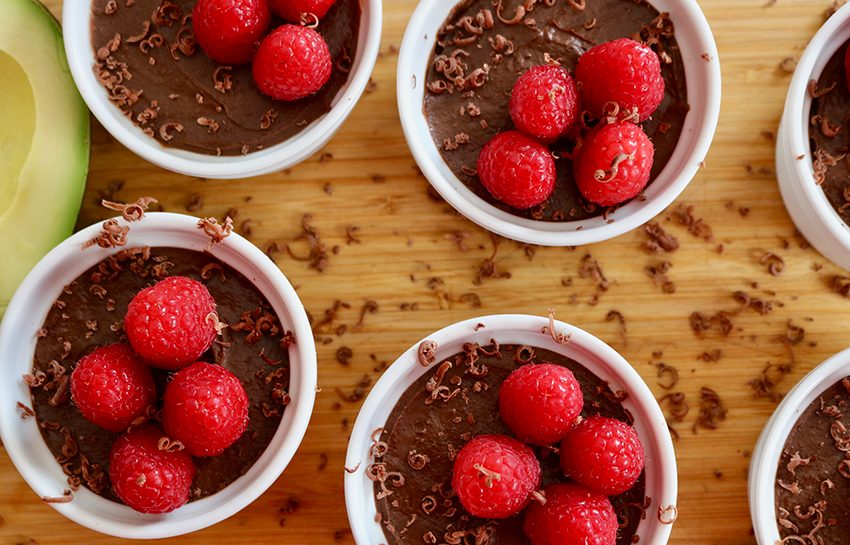 Avocado Chocolate Mousse
What do you get…
When you mix creamy avocado…
And dark chocolate…
Plus some other yummy things,
Like coconut cream & dates…
And maybe some fresh berries,
For freshness and colour?
Give up?
You get one of the creamiest,
Most velvety,
Intensely,
Decadent and delicious chocolate mousses,
You'll ever lay a spoon into!
That's right!
This week,
We've brought the goodness of omega 3 fats,
Fibre, Vitamin B, C & Magnesium,
That you get in avocado,
Combined with protein,
Antioxidant goodness…
And even more magnesium of dark chocolate,
Plus all the anti-inflammatory punch…
Even more vitamin C,
And freshness and colour from raspberries,
To make one of the healthiest,
Simplest,
And delicious desserts,
We've ever created.
Don't be fooled by the serving sizes.
This recipe made 6 smallish looking mousses,
But they were so rich and lovely,
Our youngest only made it half way through…
More for mum and dad!
Avocados and berries are hitting their stride,
And this is a dessert that will make you a favourite,
With the fam and party guests alike.
Maybe on a zoom call for now!
All that's left to say now is…
Buon appetito.
– – – – – – – – – –
Ingredients
2 ripe avocados
200g dates, pips removed
3 tbsp cacao powder
1 tsp vanilla extract
1/3 cup coconut cream
120g dark chocolate (70%)
Pinch of sea salt
1 punnet raspberries
Method
Mash avocados in a bowl with a fork and set aside.
In a saucepan, melt the dark chocolate on a low heat.
Add all the ingredients into a food processor and blitz until smooth.
Divide between 6 ramakins and cover and refrigerate overnight.
Serve with raspberries and shaved chocolate.