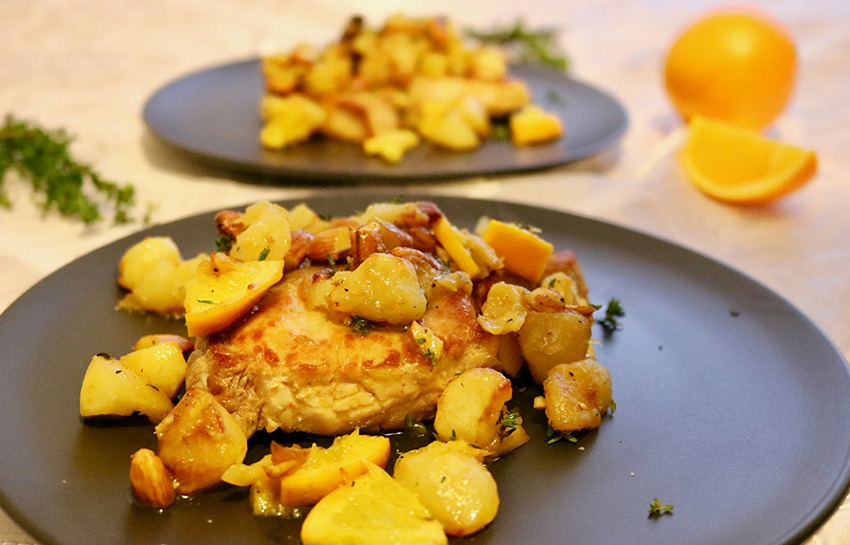 Orange & Jerusalem Artichoke Pork
After a long week at work,
And well passed our regular Friday night dinner time,
The hunger had well and truly kicked in!
With no prior plan,
And 3 adults and 3 kids to feed,
We thought we'd give the new oven a go,
And opt for some homemade pizza!
Disappointment struck,
When we opened the freezer,
Only to find one pizza base left!
There was no time for home-made bases,
And with two boys with their heart set on pizza,
Creativity was essential.
So the mezze,
Aka tasting plates began.
Olives,
Warmed bread,
Some left over leek and feta pie were a great start.
Salame and ham that didn't make it to the pizza,
Also made the cut…
And the last piece,
Of the Friday night dinner puzzle,
Was a combination of one of my favourite veggies,
Jerusalem artichokes,
And the only thing I could think of pairing them with…
New season Navel Oranges!
As the fatigue disappeared…
A side effect perhaps of the cooking, music and two…
Or maybe three glasses of red wine…
Cinnamon sticks,
Garlic pieces and a little squeeze of orange juice added to the final mezze of the night.
That was almost a week ago.
Today,
I added some lovely pork medallion to make this impromptu mezze into a meal,
And some fresh thyme because that was all that was missing on Friday,
To add some colour and complete this fabulous,
Simple and delicious autumn dish.
All that's left to say now is…
Buon appetito!
– – – – – – – – – –
Ingredients
600g Jerusalem artichokes, peeled, chopped into bite sized pieces
1 orange juiced, pulp removed
1 orange sliced, rind on & cut into sixths
2 garlic cloves
1 cinnamon quill
½ cup raw almonds
Olive oil
Thyme for garnish
Pinch of sugar
4 pork medallions
Method
Cover the base of a large frying pan with olive oil and heat on high.
Add the artichokes to the pan and cook them for 6-8 minutes or just to tender. Season with salt and pepper and while they're cooking, pull the cinnamon quill apart into to two pieces and add them to the pan.
Reduce the heat to medium high then add the garlic and almonds for 1-2 minutes.
Add the orange pieces and a pinch of sugar and cook for a further 2-3 minutes.
Add the orange juice and cook for around 2-3 minutes or until the juice has reduced.
Cook 4 pork medallions to your liking and deglaze with one cup orange juice (optional).
Evenly divide the artichoke and orange over the pork medallions, season with thyme and serve.
Note: Fish would go well with this dish too.