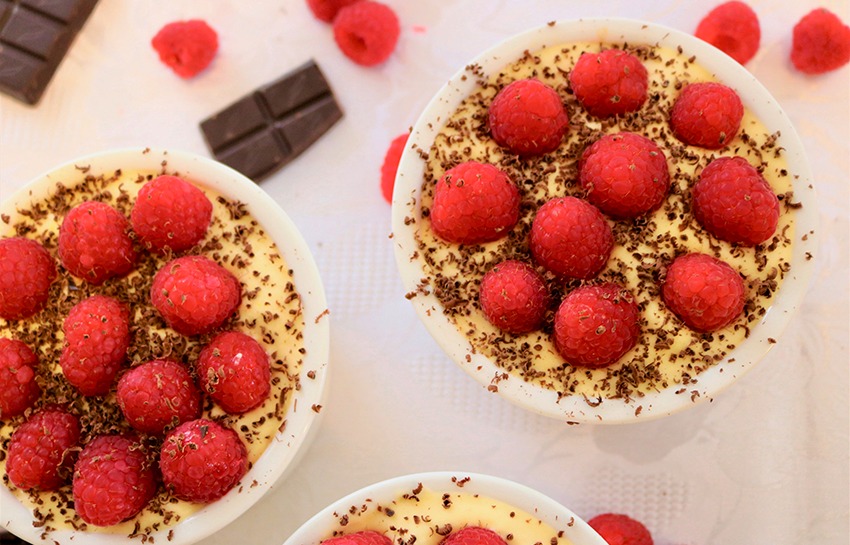 Virgin Raspberry Tiramisu
Once in a while,
I like to live it up.
And this week…
Has been one of those whiles!
Haircut…
Massage…
Shopping,
And…
Fancy homemade dessert,
All in the one week!
Let's face it…
We're living in different times!
A time where Gold Class movies make way…
For the latest blockbuster release on Apple TV!
A time where a planned 3-week European summer odyssey…
To get away from the chilly Melbourne winter…
Is replaced by a weekend getaway to your holiday home down at Sorrento…
Or even worse,
Your best friend's place!
Thank goodness for the hot tub!
And a time where fancy dinner with friends at Coda Restaurant,
Ending in an exquisite dessert of petit fours,
And a glass of your favourite fortified,
Gone!…
Only to be replaced by watching old favourites,
Battle it out on Masterchef,
In the revised format of the show,
While you tidy up after an early dinner because there's nowhere else to go!
At least I have plenty of time,
To make myself…
And the entire family…
A fancy dessert,
To end the week, of living it up in style!
Tiramisu is an old Italian favourite,
And I have done my best to stick with the classic version,
Except for leaving out the grog…
Because our kids are 11, 10 & 7…
And although it pained me,
I felt like being inclusive to end the week!
I haven't gone too fancy…
Other than sourcing the best quality ingredients that money can buy,
Including Joe's Pick of The Week,
Sweet, plump and extraordinarily delicious,
NSW Winter Raspberries!
The berries give a lovely freshness to a rich,
Lavish and luxurious Tiramisu,
Glamour mascarpone cream almost stealing the show…
And bitter 85% dark chocolate a must,
As well as a strong brew of espresso coffee,
To keep the sweetness in check.
I rushed to eat my first serve,
Only waiting 4 hours for it to set,
Mainly because I couldn't resist…
But I probably should have been more patient,
And I suggest you ideally make it in the morning to eat at night,
Or at night to enjoy the next day.
This is a simple dessert,
Worthy of any Italian trattoria,
And the only thing left to say now is,
Buon appetito!
– – – – – – – – – –
Ingredients
4 punnets of raspberries
500g mascarpone
6 eggs, separated
½ cup caster sugar
40 lady finger biscuits
2 cups brewed espresso coffee
2 flat tsp cocoa powder
1 tbsp vanilla essence
Dark chocolate for garnish
Method
In a bowl, combine the coffee, cocoa and vanilla and set aside.
In a large bowl beat the egg yolks and the sugar together until nice & creamy. Add the mascarpone and beat until it is mixed well.
In a separate mixing bowl, beat the egg whites until they form soft peaks.
Fold the egg whites into the mascarpone mixture.
It's now time to start putting the dessert together in 10 medium ramakin bowls.
Quickly dip the lady fingers into the coffee mixture and arrange a layer at the bottom of each dessert bowl. You may need to cut some of the fingers, so they fit.
Dip them quickly so they don't get soaked in the mixture because they will become too soggy if they absorb too much liquid.
Spoon in a layer of mascarpone mixture over the biscuits. Repeat with another layer of lady fingers and the remaining mascarpone.
Put the bowls in the fridge and chill for at least 6 hours.
When they are ready, arrange the raspberries over the top and finely grate some dark chocolate on top then serve.