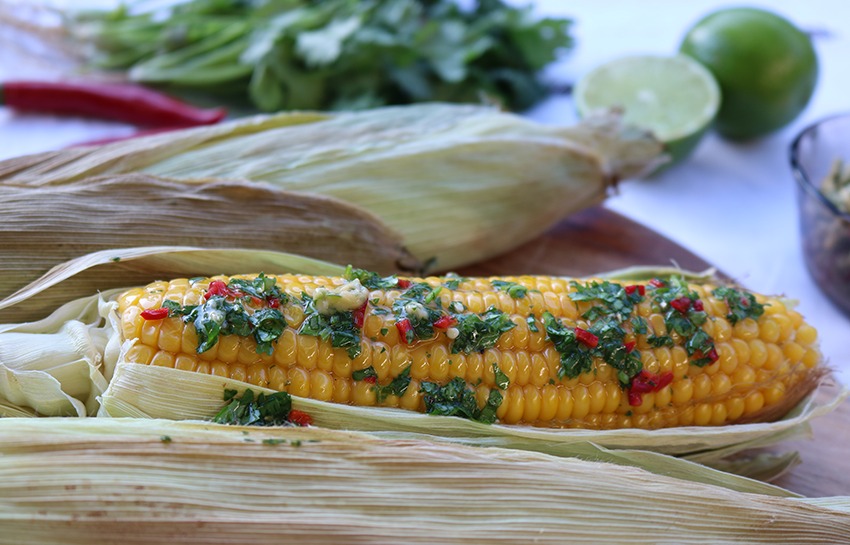 Roasted Corn with Chili, Coriander & Lime Butter
Extra lime to serve…
Hot chilies for zing and…
Lots of good salt for rubbing!
That's what this week's recipe needs…
No…
Demands!!!
Corn on the cob reminds me of my youth!
In fact…
It was one of the only veggies I could tolerate as a kid.
I not only tolerated it…
I loved it!
Maybe it was the sweetness?
Nope.
It definitely was the sweetness!!
Plus..
It was a huge bonus that it wasn't green!
But green is what I wanted to bring to this week's pick of the week…
Aussie sweet corn…
To life!
Coriander is one of those…
"I love it" or "I hate it" herbs.
I just love it!
And so does corn evidently.
And coriander needs lime & salt.
Yummo!
We roasted our corn with husk on.
That means you get a super tender corn kennel…
But…
You do miss out on the char. 🙁
I'll have a go at doing a charred version too…
But today's husk on version was fabulous anyways.
Summer is here…
And so is winter at times…
But…
This weekend is allegedly going to be super warm, so…
Go get yourself some Aussie sweet corn…
Roast it in the oven…
Or even better…
Chuck it on the Barbie…
Add lots of delicious herbed butter…
And bring out the best of one of my all time veggie faves!
Buon appetito
– – – – – – – – – –
Ingredients
8 cobs of corn in their husks, strings trimmed
100g butter at room temperature
½ cup coriander chopped
2 long red chillies chopped
juice of ½ a lime
2 limes
¼ tsp lime zest
Salt
Pepper
Method
Pre-heat oven to 180°C.
Wash the husk of the corn and towel dry.
Line an oven tray with baking paper. Place corn with their husks on the tray and roast in the oven for 40 minutes, turning every 10 or so minutes.
In the meantime, put the butter, coriander, chilli, lime juice & lime zest in a bowl and stir to combine well. Season with salt & pepper.
Remove corn from the oven. Peel of the husks which will easily peel away. Cover in the coriander butter and season with salt & a generous squeeze of lime juice.