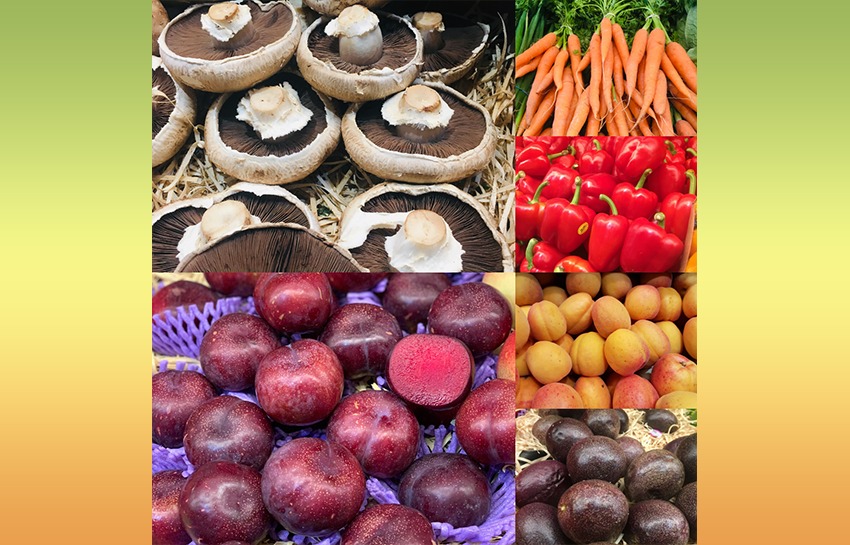 Joe's Market Update – December 4, 2019
FRUIT
It may not feel like summer here in Melbourne…
But the heat throughout the rest of the country,
And the warmer weather in country Victoria…
Means that stone fruit season is moving along nicely.
Grown just outside Shepparton in the Goulburn Valley,
New season red plums are excellent.
They're a firm, full flavoured plum,
With a shiny dark red skin,
And inside…
The red plums have a dark colored, sweet and fabulous tasting flesh.
I know it's early…
But I reckon this will be one of the best plums of the season!
Also grown in Shepp…
Apricots are now almost a month into the season,
And the quality and price of them has just got better and better.
The full apricot flavour shines in what is a good-sized fruit for early December!
In other stone fruit news,
We now have excellent options in both the large white & yellow peaches & nectarines.
There are some challenges with berries.
The fires in NSW mean that it has been difficult to get blueberries into Victoria.
This has caused the price of blueberries to be a little higher than usual for this time of year.
Locally,
The cold weather has impacted on strawberry farmer yields.
Ideally,
Strawberries need consistent warm weather to be at full production,
So until we have happens,
We will see local berries a little pricy with supply tight.
Having said that,
Both the large & small sized D'Angelo strawberries are as sweet and tasty as I can remember them.
Also worth a mention are Victorian blackberries.
They're well priced and eating well too.
Finally in fruit,
Passionfruit bags are back.
They're decent value for the lovely fruit…
And we've also got large loose passionfruit for those that prefer a larger option.
VEGGIES
Victorian red caps are really hitting their stride in December.
Grown in the Melbourne suburb of Keilor…
The Wallace red caps are superb.
They are also priced better than they were earlier in the season,
A very versatile veggie,
Red caps can be used for stir fries, stuffing, roasting and salads.
With another cold week ahead in Melbourne,
Dutch carrots and Desiree potatoes are a couple of good quality options…
Also versatile and very weather appropriate!
We do have some veggie challenges.
The biggest Victorian grower,
Located in Bairnsdale,
Didn't have any crops at all this year.
This means that supply is and will be severely restricted this season,
Causing bean prices to be higher than usual.
It's a shame for us and you guys…
But even worse for our many local farmers,
Who like their interstate counterparts,
Have had a horror run in 2019.
We wish affected farmers and their families all the best…
And hope things turn for them in 2020.
In other veggie news,
Leafy greens continue to be good, as do most salad lines.
I'll mention Victorian grown red oak, cos leaves and wild rocket,
Which are look excellent this week.
Finally,
My pick of the week goes to mushrooms.
I didn't want to discriminate,
So I've gone for cups and flats,
Of both the white & swiss brown varieties.
The white mushrooms are from Merbein, Victoria…
Whilst the Swiss browns are from Mallala SA.
And I've chosen mushrooms because I feel this extreme December cold weather…
Really does lend itself to the dishes like pastas, risotos, gravies & pies.
Featuring earthy, hearty and nutty mushrooms.
That's all for this week's update,
And if you haven't already, get your FREE Top Shelf Mediterranean cookbook at http://bit.ly/jointopshelf.
Ciao,
Joe Russo
Foodie | 3rd Generation Green Grocer