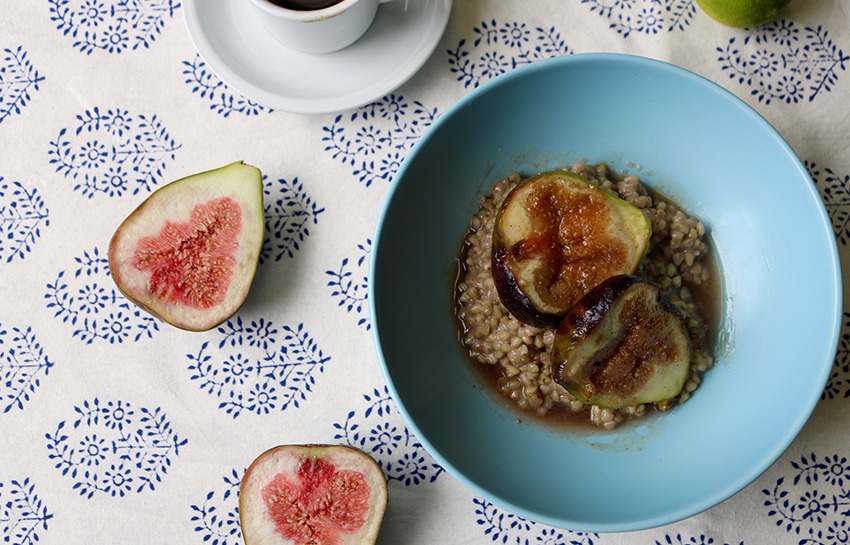 Coconut, Lime & Honey Figs on Creamy Buckwheat
Since before the Emperors of Ancient Rome…
And even earlier than the Gods of Ancient Greece…
The forbidden fig has not only been eaten, but…
It also holds special place in many a culture, religion and folklore.
The Prophet Mohammed…
(Not to be confused with Mo that works in the shop!!!)…
Was even reported as saying it was the one fruit that he would choose to see in paradise!
Others say it was the fig and not the apple that tempted Eve.
I know the fig tempted me over the last week…
As shopper after shopper filled his or her basket with figs for their Xmas menus!
So I thought…
Given that there are still plenty of wonderful…
Locally grown figs around…
I would succumb to my fig temptation,
And create a recipe featuring figs for this week's recipe of the week!
Something maybe a little left of fig centre,
I've gone for a brekkie that not only tastes delicious…
But may also help with curing a festive hangover!
Not that I've been at a Xmas party last night!
Anyways,
My brekkie features Eurasian inspired flavours…
Fusion if you like!
Honey and cinnamon are fig classic combos…
But we've added coconut cream and coconut oil…
And a tweak of lime for balance and to complete the plate.
We promise you that Buckwheat Cereal will never be more exciting than this dish.
Enjoy your NYE festivities.
Buon appetito
And as we say in Italian
Buon anno (Happy New Year!)
– – – – – – – – – –
Serves 2
Ingredients for the Buckwheat Porridge
½ cup buckwheat washed
½ cup coconut cream
1 cup water
1 tsp cinnamon
½ tsp vanilla extract
2tsp honey
Small pinch of salt
Ingredients for the Fig Syrup
2 figs
1 cup water
2 tbsp honey
1 flat tsp coconut oil
1 lime – two peels of flesh & 1 good squeeze of juice
Method for the Buckwheat
Mix coconut cream, water, cinnamon, vanilla & salt into a pot and bring to the boil.
Add the buckwheat and reduce the heat to a simmer.
Simmer for half an hour or until buckwheat is cooked and creamy. Add the honey right at the end and stir through, then set aside.
Method for the Figs
While you are simmering your buckwheat, heat the water, honey, coconut oil, lime peel & juice in a deep pan and bring to the boil.
Reduce to a simmer and add the figs.
Consistently spoon the liquid over the figs as they simmer. You need to carefully turn the figs over throughout to get them evenly cooked.
Make sure you cook them enough so they soften & cook through, as this will bring the natural sweetness out of the fig.
Serve on top of the buckwheat with a few spoonfuls of the syrup over the top of the figs.
Top Tip: I cheat and have an extra half fig that I can sample to be sure they're cooked to my liking!