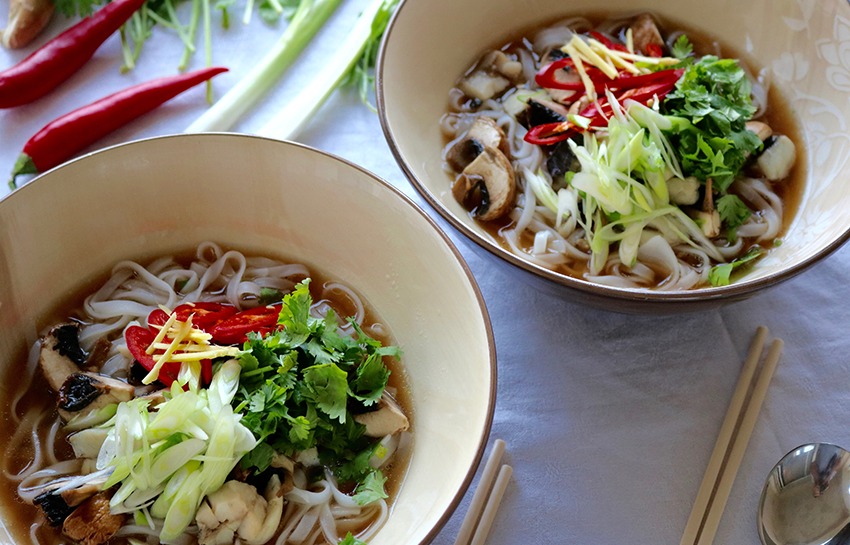 Vietnamese Inspired Ginger Fish Soup
Victoria Street Richmond was once a rough, dodgy and scary place…
Full of undesirables and…
Definitely no place for a teenage kid to be grabbing a feed in the 90s!
In those days, Hawthorn dominated the AFL, Wayne Carey was still loved by all and Carlton & Essendon were the toast of the town on at least one occasion.
Oh how times have changed!!!
These days, when I think of Victoria Street, I think of piping hot broth…
Velvety noodles and…
Fragrant, pungent even, fresh & vibrant herbs.
Loads of chilli too!
So much so that you need a napkin to wipe the sweat off your brow as you make your way through your massive bowl of Pho.
Pho, not pronounced "Poe" as many people have wrongly attempted, including myself to pronounce, is my inspiration for this week's Foodie Friday's recipe of the week, Asian Inspired Ginger Fish & Noodle Soup!
Pho is basically broth – usually beef!
Noodles – typically rice noodles!
And fresh herbs – whatever is on hand of Thai Basil, Coriander, Spring Onions, Lemon &/or Lime wedges.
In my version, I've gone for fish bones as the base for my broth and ginger.
Why?
Because Joe's pick of the week is Aussie grown ginger and…
I reckon fish soup is so much yummier than beef soup!
And fish & ginger makes so much more sense.
Right?
You'll love how light this dish yet satiating and energizing…
Other than energized, I kinda felt light headed in a Lucy In The Sky With Diamonds way, which I put down to the intensity of the chilli!
If you wanna do the express version, by all means use good quality store bought broth.
If you can't find fish broth, vegetarian would be best and…
You could simply boil fresh ginger in the bought broth for 10-20 minutes or whilst you're preparing everything else to get that infused ginger broth flavour.
We've used Bream and I've also done it with cod before which is delish.
You could go for perch, flat head, halibut or any other fish that's freshest and your fishmonger recommends.
This version is not 100% authentic but it's 100% amazingly delicious and simple.
And for those wondering…
I think it's kinda pronounced ferr, or is it furr?
Buon appetito or Ngon miệng!
– – – – – – – – – –
Ingredients
6 cups ginger fish stock (see recipe below)
300g fish fillet cut in thin strips
150g swiss brown mushrooms cut in eighths
1 tbsp ginger chopped finely
1 tbsp ginger cut into batons for garnish
4 spring onions trimmed and sliced diagonally & thin
1 cup fresh coriander roughly chopped
2 long red chillies sliced diagonally & thin
2 limes
300g vermicelli noodles
1-2 tbsp coconut oil (enough to cover base of a large pot.
1 tsp brown sugar
2 tbsp soy sauce
Method
Cook the noodles according to the packet instructions. Remove from the heat, strain and rinse under cold water then set aside.
In a small bowl combine the soy sauce with the sugar, stir and set aside.
In a large pot heat the coconut oil, add enough to cover the base of the pot.
Add the ginger and sauté for about 1-2 minutes or until it's fragrant, you don't want it to brown.
Add the stock and bring it to the boil. Add the soy sauce & sugar mix and stir to combine.
Reduce the heat slightly, and add the fish cooking for about 30 seconds.
Add the mushrooms and cook for a further 1.5 minutes.
Remove from the heat.
Set out four bowls and re-rinse the noodles under cold water before you divide them equally into the four bowls.
Add ladles of the soup evenly over the noodles in the four bowls.
Garnish each bowl with coriander, chilli, spring onions & the ginger batons.
Squeeze half a lime over each bowl & serve.
Ginger Fish Stock
Ingredients
Fish head and bone from a large fish (or heads & bones from smaller fish)
3 litres of water
6 spring onions trimmed
20g ginger (6 slices)
2 tsp salt
1 tsp coriander seeds
1 tsp black peppercorns
Method
Put all the ingredients into a large pot and bring to the boil.
Reduce to a gentle simmer and cook covered for around 4-5 hours.
Strain and put aside for later use.
If storing in the fridge, allow to cool first.
It will last around 3 days in the fridge.
You can also freeze which will extend shelf life.
This will make about 2 litres of stock.
Taste & season as required halfway and at the end.