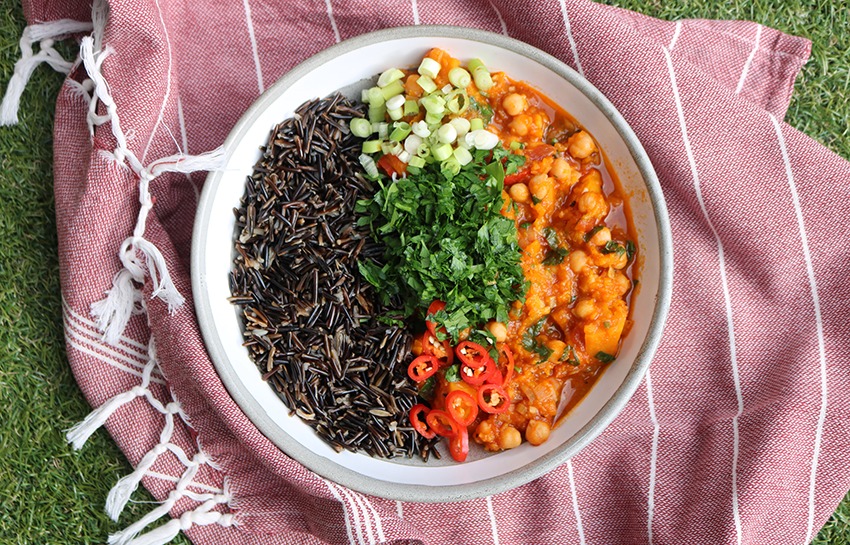 Chicky Pumpkin Stew
When I say "pumpkin"…
What's the first food that pops into your head?
I'm guessing if I said "pumpkin soup" or "roast pumpkin",
I'd have at least 80% of us covered!
Am I right?
Or maybe that's just my world.
To be honest,
I'm over pumpkin soup…
And have been for years!
Roasting is my favourite way to cook pumpkin,
But,
For this week at least,
I felt like a change from roasting too!
Instead,
I've opted for something a little left of pumpkin centre!
A little left of Southern Europe too,
Where most of our dishes typically originate!
Still in the Mediterranean,
But all the way across the Mediterranean Sea,
Just below Spain for those that need a little navigational assistance,
This week's dish has a distinctive Moroccan feel!
It features cumin, chilli, tomato & chic peas…
Garlic and olive oil too!
All ingredients that could easily find a home in a Morccon inspired tagine!
We've accompanied the stew with some wild rice,
Mainly because it's got some crunch and texture.
The stew is kind of soft and stew like (go figure!)…
So if you're going to use another side,
Keep it textured.
Freekeh would be good,
And a nanh bread or roti would be lovely too!
Chopped parsley, chilli and spring onion all add necessary freshness and…
You could easily add mint & coriander too.
One thing that's missing from the photo,
And is a must add,
Is a dollop of full cream Greek yoghurt.
Don't go overboard,
But a nice spoonful of yoghurt will add that nice cleanse from the rich sauce and…
Really balances out the dish,
Both in flavour and color!
That's all for this week.
Enjoy your cheeky pumpkin stew!
Buon appetito!
– – – – – – – – – –
Ingredients
1kg pumpkin chopped into cubes
2 cloves garlic chopped
2 long red chilies chopped
1 leek diced
2 spring onions chopped for garnish
½ cup coarsely chopped parsley
½ cup finely chopped parsley for garnish
1 425g can of chickpeas
500ml vegetable stock
400g can of chopped tomatoes
½ tsp ground cumin
1 cinnamon stick
1 bay leaf
300g of (uncooked) wild rice cooked as per packet instructions
¼ cup olive oil
Greek yogurt (1 dollop per serve)
Sea salt
Cracked pepper
Method
Heat olive oil in a saucepan on medium heat and sauté the leek.
Add the garlic, half the chili, bay leaf & cinnamon stick and sauté for 1 minute.
Add the pumpkin and the cumin, season with salt & pepper and then sauté for 3-4 minutes to combine all the flavours well.
We don't want the leek to brown so reduce the heat if need be during this initial cooking phase.
Add the chopped tomatoes and cook for 1 minute stirring to nicely coat everything.
Pour in the veggie stock, turn up the heat and bring to the boil then reduce to a simmer for 10 minutes.
Add the chickpeas and simmer for another 10 minutes.
Just before you remove from the heat add coarsely chopped parsley and stir to combine.
Serve with wild rice, garnish with parsley, spring onion & chili and a dollop of greek yoghurt.
pring onions.