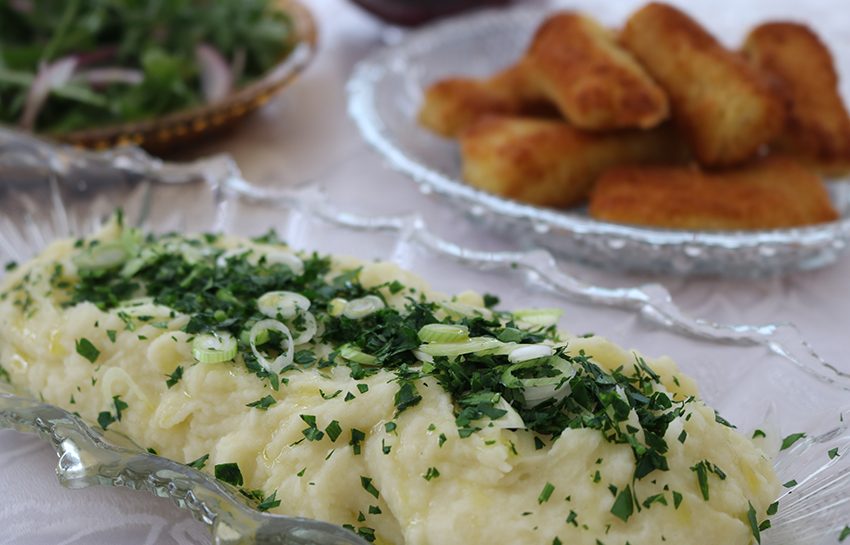 Skordalia
Growing up…
I so looked forward to school holidays,
Time away at my grandparents house…
And I just loved it!
Georgina & Frank are well past their prime these days,
And at 93 & 95 respectively,
Some would say that they are hanging on by a thread,
But I am very blessed that they're around!
Of all the things I remember from my countless sleepovers,
And there were literally hundreds,
Was the unforgettable smell of garlic.
My granddad,
Affectionately known as Pup-pu in Greek,
Loved his garlic,
And as a 7, 8 and even 12 year old,
It wasn't really my most beloved smell.
Fast forward 10 years,
And I meet the love of my life,
Sonia,
Who not only turned me into a better bloke,
She also led me into a long and passionate love affair,
With you guessed it,
Garlic!
Granny Georgina's use of garlic ranged from roast lamb,
To pungent tzatziki.
Frank would eat cloves of it with his daily meals,
To ward the vampires off,
And also to accompany his brandy, beer or wine…
But possibly the most memorable of all of Grans garlic-centric meals,
Was skordalia.
For those not familiar with this Greek speciality,
Skrodalia is a potato and garlic based dip,
Loads of love, olive oil & salt,
Lemon for acidity, more flavour and to help mellow out the garlic,
And generally served with fish,
Fried cod, aka bakalar,
Or in our case,
Some crumbed and fried flake…
Because flake is an easier sell to kids under 12,
Which happens to be a number one client base.
Skordalia is easy,
Full of flavour,
And heavily dependant on loads of good garlic.
New season Aussie garlic is among the worlds best,
And just started this week,
So get your hands on loads of garlic, potatoes and fish,
And treat yourself to a simple,
Yet delectable pleasure.
That's all from me.
All that's left to do now is say…
Kali orexi.
Greek,
For Buon appetito!
– – – – – – – – – –
Ingredients
3 large potatoes (approx.700g) peeled and diced
6 large garlic cloves
Juice of 2 lemons
¾ cup olive oil
Parsley & spring onion for garnish
Sea salt
Method
Crush the garlic into a bowl and pour in the olive oil, mix to combine then set aside.
Boil the potatoes in salted water until they are soft and easily crumble. Strain the potatoes, give them a quick rinse then set aside for about 5 minutes.
Once slightly cooled, mash the potatoes then push through a sieve into a bowl.
Add the garlic and oil, lemon juice and season with salt. Mix them together well with a wooden spoon.
Garnish with some finely chopped parsley, sliced spring onion and a drizzle of olive oil.
Serve with fish and salad. We've used crumbed flake made into fingers but cod would also go perfectly with this dip.