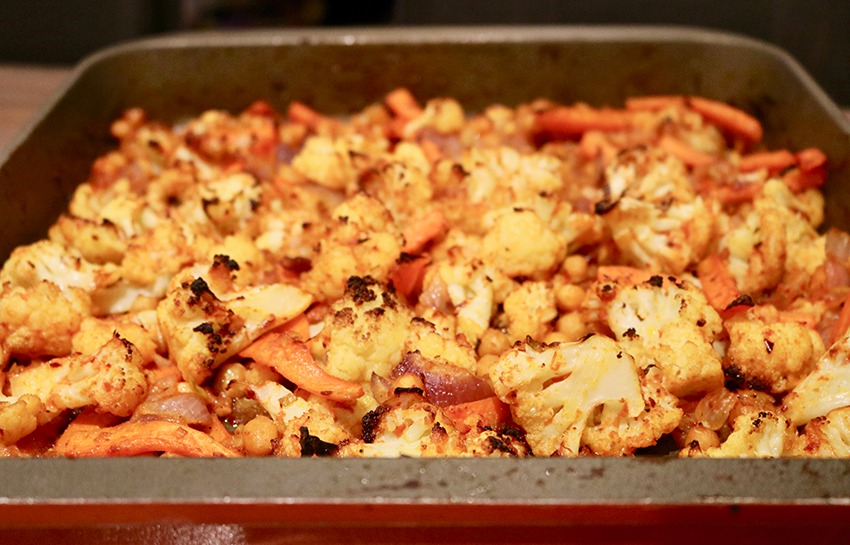 Cauli, Leek & Chickpea Bake
At only 99c…
Cauliflowers and leeks are as cheap as I've ever seen them this week!
Quality is superb…
They're both locally grown,
And I needed no convincing to put them together in this week's recipe of the week!
But cauli being cauli,
And kinda like chicken breast….
It needs a little more than steaming or boiling to bring out the best in it!
Wouldn't you agree?
Roasting it with lots of aromatics,
Good quality olive oil,
And finishing off the baking on the grill setting to get some char on the cauli,
Brought the cauli to life.
The leek and red onion brought some sweetness to the dish,
As did the carrot,
And the chickpeas gave the dish the necessary protein to make the dish complete.
You could opt for no passata, but I think the sauciness is just another layer of yumminess…
And be sure to serve with a lovely green salad,
Lots of crunchy sourdough bread,
Some feta drizzled in olive oil…
And if you're so inclined,
A glass,
Or maybe two of your favourite shiraz!
You might prefer to serve this up as a side,
I was very happy with it as a main.
Either way,
Buon appetito!
– – – – – – – – – –
Ingredients
1 cauliflower cut into florets
1 red onion chopped
2 carrots washed, cut into 2 inch batons
½ leek diced finely
1 400g can chickpeas strained and washed
1 cup tomato passata
½ cup olive oil
1 cup water
1 tsp chilli flakes
Sea salt
Cracked pepper
Method
Pre-heat oven to 200°C-220°C, depending on the strength of your oven.
In a large baking dish combine all the ingredients and mix together with your hands until all ingredients are mixed evenly.
Bake in the oven for 30-40 minutes or until cauliflower is tender. If you like extra char, turn up the heat or put it on grill for a few minutes.
Remove from the oven & serve with crusty bread, feta cheese and a glass of shiraz.