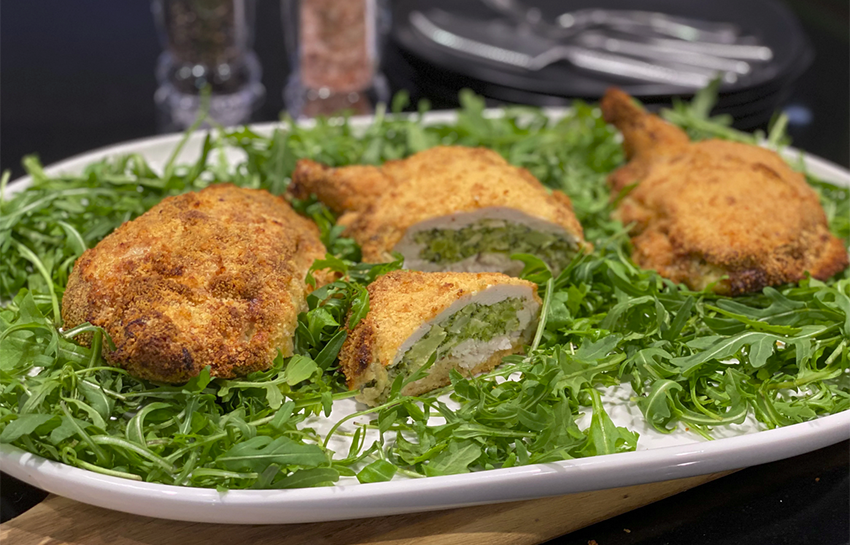 Broccoli and Camembert Chicken Kiev Bake
Ask your poultry shop to cut you a chicken breast with the little wing bone still attached; it looks so good!
Ask then to butterfly it open for you too.
The cheese and broccoli mixture often gets pretty oozey out, but it makes them so tasty, so it really doesn't matter!
If you double crumb them, they will most likely hold that cheesy, broccoli goodness in!
– – – – – – – – – –
Ingredients
4 skinless chicken breasts with wing tip attached (see above)
1/3c plain flour
5 large free-range eggs
300 g fresh breadcrumbs
1 head broccoli, broken into florets
1 medium wheel Camembert, cut into pieces
Method
Preheat oven to 200°
In your are preparing the chicken cut yourself, lay a chicken breast out on a board and peel back the tenderloin. Find the thicken part of the breast and cut a slit for the broccoli and cheese. Aim to make this cut where the tenderloin folds back. Be careful not to slice it all the way through.
Steam the broccoli for about 4 mins, just until it goes bright green, then chop it up.
Place cheese in a bowl with Camembert and a good grinding of salt and pepper. Divide into 4 even portions and spoon into each breast.
Fold the tenderloin back over and secure with toothpicks or skewers. Chill in the fridge for a few hours.
Place the flour, eggs and breadcrumbs in separate bowls.
Coat each Kiev in flour, then the beaten egg, and then in the breadcrumbs.
Repeat with egg and crumbs.
Place on an over-safe tray and spritz with olive oil.
Bake for 45 mins or until golden and gooey.
Serve a simple green salad or a pile of rocket.
TIP:
If your chicken breasts are on the small side, grab an extra piece of chicken to lay over the slit and secure it with toothpicks for a little added security. No one really wants that cheesy goodness seeping out!