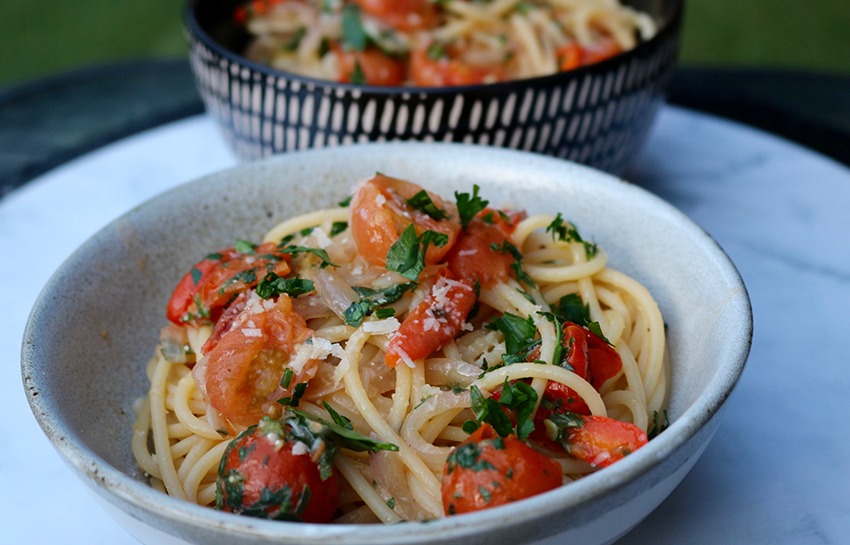 Cherry Tom Spag
From prep to being served,
This week's meal took only 35 minutes…
Including photography!
Time wasn't on my side,
As my youngest had his end of season soccer presentation…
And I was determined to cook the dish and photograph it,
Before the sun came down!
I usually enjoy cooking slowly,
But I must admit…
I rather enjoyed the challenge of the clock ticking down in the background.
The meal featured this week's pick of the week,
Locally grown Coldstream cherry tomatoes.
Fresh pasta sauces are my fave,
So I opted for a light, simple & traditional sauce…
Onion, garlic, chilli and parsley,
The humblest of companions for our sweet & crunchy cherry toms!
My top tips for this recipe are have all your ingredients prepped in advance,
As you wanna work quickly to avoid overcooking the ingredients.
I'm a huge salt & pepper fan…
But go easy with the salt on this one as the grana is salty enough so you'll only need a sprinkle early in the cooking to bring out the flavour in the toms.
You may want to go for more or less water,
The main thing is you use the pasta water, as the starchiness is what really binds the sauce together.
And in regard to the green,
I've said 1 cup of chopped parsley,
But you could even go for more,
As the freshness brings a welcome freshness to the sauce.
I must confess,
That I didn't have time to eat my pasta fresh,
As I had to get my boy to his soccer training.
When I got home,
I gave it another cook in a hot pan…
Added some more grated cheese,
And it still tasted delish.
This cherry tom spag was cheap as chips…
Simple, quick and will be one of my go to dishes in the spring.
The only thing left to say, is…
Buon appetito
– – – – – – – – – –
Ingredients
1 500g pack of Rummo Spaghetti
1 large red onion sliced
3 garlic cloves sliced
1 punnet cherry tomatoes washed (halved if they're large)
1 cup chopped parsley (extra for serving)
1 cup grated Grana Padano (extra for serving)
1 long red chilli sliced (optional)
Good salt, cracked pepper, 4 tbs olive oil
Method
Cook spaghetti as per packet instructions or al dente as it will continue to cook for 1-2 minutes in the sauce.
In another very large pot, add the olive oil. Sauté the onion for 1-2 minutes on a medium/high heat.
Add the garlic, chilli & tomatoes and sauté for another 2-3 minutes. Turn down the heat if required to avoid garlic and onion browning.
Add half the grana and stir through. Then add 300ml of hot water from the pasta. Season with salt & pepper and after it comes to the boil, reduce to a very low simmer.
Add the rest of the grana and the parsley just before your pasta is al dente. Once the pasta is cooked, transfer it to the sauce and stir through gently until the pasta is covered with sauce.
Serve in bowls immediately and garnish with the extra parsley & grana.